The Journey from Making Trusses to Making Laws
The Journey from Making Trusses to Making Laws
A CM turned state lawmaker uses business experience to help others
"I can't say I know everything that is going on, or how the whole system works," but with a year under his belt as a state representative in the Ohio state legislature, Reggie Stoltzfus says he has learned a lot and continues to strike a balance between his legislative role and operating his component manufacturing facility.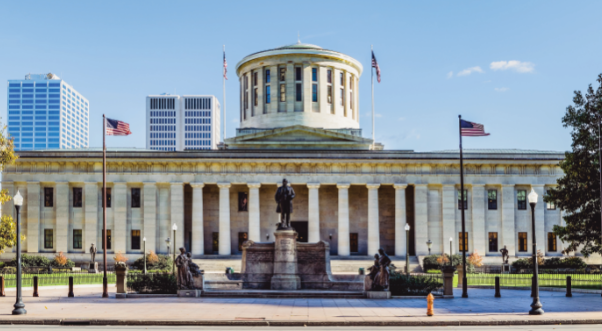 The Republican lawmaker and owner of Dutchcraft Truss in Minerva, Ohio says he still feels "very green" when it comes to understanding the inner workings of the whole legislative process. He says there is a lot of learning that takes place every day. One thing he has learned a lot about is the importance of patience, another is building relationships he can trust.
Reggie (second from left) tours the Electric Cooperative facility in Muskingum County, OH.
A Different Pace
"I like to get things done and, if there is a problem, I want to solve it quickly, but that's not so with government and I had to put the brakes on with that mentality," he says. "At the state level of government it's slow moving, and things don't happen overnight like I want them to, or that I'm used to." 
As a small business owner, Reggie says he provides a much-needed perspective at the state capitol. He says he's regularly "playing defense" and helping protect small businesses as state lawmakers propose new laws and regulations that have downstream consequences on companies, including Ohio component manufacturers. 
"There is a portion of the population who doesn't understand how hard it is to maintain and operate a small business, and the mentality is that we need to regulate and tax businesses more," Reggie says. "That mentality makes me want to work even harder for the people of Ohio, because if we overregulate and overtax our businesses, we aren't going to have  businesses to employ people."
See and Be Seen
As an elected official, Reggie says he is regularly invited into various companies and manufacturing plants. He recommends all CMs reach out to their elected officials and invite them into their plants on a quarterly basis until they walk through the plant. 
"That's the cool part about this job, business owners are very open to inviting you in, showing you what they do and giving you a hands-on look at their business," he says. "That's fun for me, to go in and see how things operate and how things are made." Every operation he sees gives him additional perspective as he evaluates legislative proposals he has to vote on.
Reggie (second from left) awards a county health department for 100 years of service
Reggie points out that giving plant tours provide CMs the opportunity to begin building relationships with their legislators and help establish themselves as a go-to resource if the lawmaker has a question about the value of a particular legislative solution. 
"Invite them to your plant, all politicians love to tour plants. It's a great opportunity for a photo op and a great way to build a relationship," he says. "Once you have that relationship built, you continue to build upon that to where that legislator trusts you." 
Often, he says, he reaches out to contacts in the industries he's come to know to ask for more information or solicit their advice on how to vote. These connections have proven to be invaluable as he works through hundreds of proposals throughout the course of his term. 
To learn more about ways to build relationships with elected officials, download SBCA's Plant Tour Toolkit. If you'd like to hear more of Reggie's perspectives on component manufacturing and elected public service, listen to his podcast on SBCA's Component Connection. 
About the Author: TJ Jerke tackles local, state, and federal issues that impact the daily operations of component manufacturers, and explores what they can do to advocate for their needs in the marketplace. Sean Shields also contributed to this article.