Surviving a Complete Shut Down
Surviving a Complete Shut Down
What The Truss Company did to recover once Washington re-opened for business
"When the schools shut down, that's when we realized it was going to be something significant," says Josh Wright, The Truss Company's vice president of manufacturing, of the Coronavirus pandemic. 
Three weeks later, construction in the state of Washington was deemed non-essential, completely shutting down operations for The Truss Company, based in Sumner, Washington, and its three other Washington plants. The company's two plants in Oregon and one plant in Northern California continued to operate. "We had an inkling it was going to be the worst case scenario; luckily we started preparing for disaster early, so it wasn't like it happened overnight," says Roger Helgeson, president of The Truss Company. 
By late March, state governors across the country issued executive orders laying out which industries could continue their work as officials tried to contain the coronavirus outbreak. Most states determined residential and commercial construction was essential work and could continue operations while following social distancing guidelines. Unfortunately, Washington, New York, New Jersey, Michigan, Vermont, and California put a halt to construction and component manufacturing. Construction resumed in each state throughout the months of May and June. 
At first, it seemed like component manufacturing would be deemed essential in Washington, and allowed to continue, but Roger and Josh found out the night before the order went into effect that they would have to shut down. 
"It was difficult to navigate; there was very little detail and everything was extremely vague," Josh says. "Luckily we had already implemented social distancing protocols and had people working from home, but once the order took effect, that is when the real scramble happened." 
While difficult to navigate, Roger says the complete shutdown may have made it easier for the company, rather than having to figure out what work they could do, and how to maintain limited operations. 
"On one hand it was difficult, on the other hand it takes your decision-making out of play," Roger says. "There is very little you can do, so you can concentrate on a restart plan and make sure your employees are taken care of."
The executive order proved especially difficult for companies based in Washington with projects in neighboring states, such as Idaho. 
"We did some work across the border, but there was very little in the way of direction when it came to what we did," Roger says. "We had to ask ourselves, how far do we push this and deal with the information right in front of us?" 
With the shutdown behind them, Roger says they figure they had about $4 million in lost opportunities. "Many jobs just got kicked down the road," Roger says. "We didn't lose much work, just delayed it. But if you lost the opportunity, do you ever get it back?" 
Managing Employees
The first thing the company focused on was taking care of its employees. 
With nearly 530 employees across seven locations before the pandemic, the company was forced to lay off about 250 employees. Luckily, for both Josh and Roger, they can't say enough about the work done by their HR and IT teams. 
The company made sure they communicated with employees as much as possible and went out of their way to provide all of the federal and state resources available to employees. In addition to regular emails and newsletter, the IT Department created a login through the company website to keep employees informed of state-by-state requirements and resources. With schools closed, the company adjusted shift schedules for workers at the Oregon and California plants to accommodate employees with children. For children taking advantage of school nutrition programs, they found out which school districts continued offering breakfast and lunch while they were closed. 
One of the biggest things the company could do for employees was to maintain their health insurance, even if they were laid off. Roger says the company is self-insured and large enough to be able to do so under the circumstances.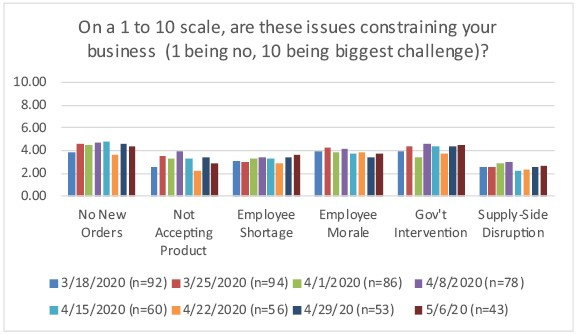 Managing Customer Relations
With employee issues addressed, the company turned its focus to its customer base. 
Since individual municipalities oversee the construction permitting and inspection process, each approached the executive order differently. 
For example, Josh says some municipalities were allowing homes to finish putting their roofs on, while some were not. Additionally, while residential construction was halted, government-funded projects could continue. However, The Truss Company had a state-funded job in Washington that was shut down by the local municipality. 
"The difficult part was making sure we were working within the letter of the law and not getting into hot water, while also maintaining relationships with customers and helping them maintain their business," Josh explains.
Some builders and other customers continued to operate, according to Roger, where they were demanding their products or panicking, unsure of what to do; but most followed the shutdown order. He added that the shutdown really showed the work that The Truss Company's general managers have done cultivating strong relationships with their customers. 
Managing the Business Restart
Photo 1
Construction and component manufacturing was allowed to resume on April 24 in Washington. 
The Truss Company said that so far they have successfully kept the virus out of the plant, despite the limited testing resources available early into the pandemic. 
"No doubt it came and went, we have a lot of young people who may have been exposed and probably didn't even notice," says Roger. If employees were exposed, or had symptoms, they had to quarantine themselves for 72 hours before returning to work. Masks are now required, along with social distancing, and surfaces are disinfected every hour (Photo 1). One employee in each plant monitors social distancing. 
Photo 2
They also invested in infrared cameras for the Washington-based facilities, which allow for non-contact assessment of an individual's temperature (Photo 2). Employees walk in single file, stand in a specific area as the camera analyzes their temperature. This process can analyze about 50 people in seven minutes, according to Josh. One employee watches a monitor and if the employee has an elevated temperature, they are pulled off to the side and checked again using a forehead thermometer. All employees have to answer a series of questions every day before entering the plant. 
Managing with Better Data
Ultimately, despite the shutdown and overall pandemic, Roger says the company has found efficiencies in operations and will get through the rest of the year with only some minor changes. 
Roger reports that production metrics and efficiency numbers after the first week back were "staggeringly good."
"The labor cost per hour was up but labor efficiency was off the charts," he says. "What you learn along the way is your ability to perform when you're lean and do more with less. A little reality check every now and then is not so bad."
For example, the company found some efficiency gains and cost savings by using Zoom meetings, which they will continue to do as the cost of the program is much cheaper and helps minimize staff travel time. The shutdown also emphasized the continued need to operate as a cloud-based, remote company. 
As a result of the changes made during the shutdown, the company realized they could simply do more with less and plan to continue operating with that mentality as they return to full capacity. 
About the Author: TJ Jerke tackles local, state, and federal issues that impact the daily operations of component manufacturers and explores what they can do to advocate for their needs in the marketplace.