Parting Shots: Ready, Set, Trike!
Parting Shots: Ready, Set, Trike!
SBCA Emerging Leaders raise money for scholarship fund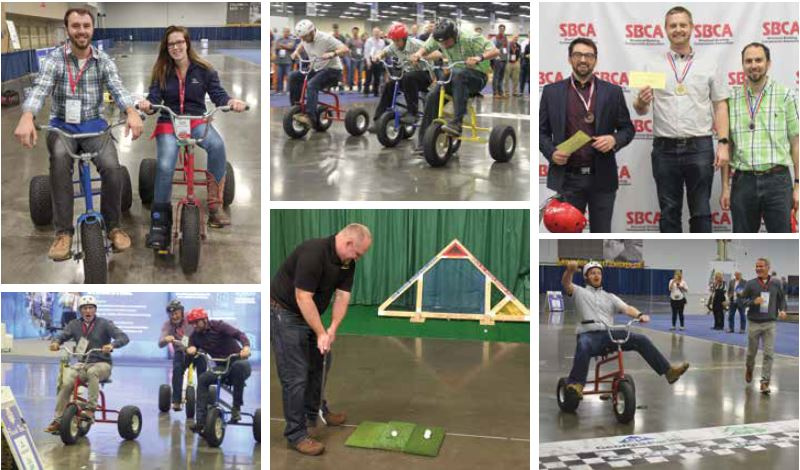 SBCA's Emerging Leaders Committee set out to raise as much money as possible at BCMC for the 2020 Emerging Leaders Scholarship fund, designed to help offset the cost of attending SBCA Open Quarterly Meetings (OQMs) for young leaders in the industry who are interesting in getting more involved with the association. Last year's scholarship recipients, Kyle May of G2 National and Shawnee Gunnett of Big C Lumber (above, top left), along with several other members of the committee, spent time in the SBCA booth to answer questions and help with the Drive-a-Nail game (a "big hit" at BCMC 2018) as well as Top Chord Golf (new to the show this year).
In addition to swinging hammers and golf clubs, the main attraction for fundraising efforts this year was an adult trike race on the BCMC show floor. Participants paid to run time trials, with the top six trikers facing off in a final set of races during the Industry Celebration on Thursday afternoon. After some intense racing by all, including memorable performances by Barry Dixon, Steve Stroder, and Caleb Waldner, Brad Unruh of Timberlake TrussWorks ultimately took home the gold medal, with Thomas Hofer of Acadia Community Truss LTD in second place, and Mike Ruede, Jr. of Trussmatic (ghost riding for Ben Hershey of 4Ward Consulting) in third place.
With the help of many generous, fun-loving BCMC attendees, the committee raised almost $1000 for the scholarship fund with these games. In addition to the trike finalists, four lucky participants went home with cash prizes thanks to the generous support of these sponsors: American International Forest Products, Apex Truss, Big C Lumber, California TrusFrame LLC, Georgia-Pacific, Pelican Bay Forest Products, and Shelter Systems Limited.
Learn more about SBCA's Emerging Leaders Committee at sbcindustry.com/emerging-leaders.