OSHA Is Regulating Regularly
OSHA Is Regulating Regularly
SBCA is a CM's best source for understanding the impacts of rulemaking
Since the fall of 2016, federal regulators have been swift to eliminate burdensome regulations or regulatory proposals that were creating additional challenges for small and large businesses.
These quick changes under the Trump Administration came as no surprise. Potential regulatory action from the Occupational Safety and Health Administration (OSHA) was cut by more than half in 2017, according to a Department of Labor agenda released that summer. Overall, 469 proposed federal regulations were withdrawn and a combined 391 were reclassified to be inactive or under review that year. 
In the short-term, these changes to regulatory policy mean that component manufacturers (CMs) need to be ready to adjust to new or different workplace rules, but many of the changes may prove to be beneficial to the component manufacturing industry over time.
Since 1970, OSHA continues to, "Assure safe and healthful working conditions for working men and women by setting and enforcing standards." They do this by providing training opportunities, outreach, education, and assistance. 
The program, which falls under the U.S. Department of Labor, has gained a reputation for watching industries like a hawk, making sure that companies are following federal workplace guidelines and punishing them if they are found to have violated the same regulations.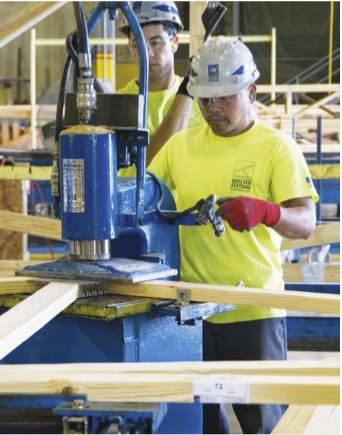 SBCA actively monitors OSHA, which in recent years has become very active redrafting rules that govern workplace practices. As part of that practice, SBCA has submitted comments to OSHA on behalf of CMs, advocating for their best interests when new rules and regulations are proposed. Many of these rules impact CMs, who need to know what, if any, changes they should make to comply with new rules.
SBCA's relationship with OSHA goes back many years. In 2011 they teamed up to develop a step-by-step template for the structural building components industry to provide guidance to its customers on how to build a truss system under the new fall protection requirements implemented that year. SBCA has also created a library of resources on fall protection, which is available to the public. 
The association continues to monitor and maintain relationships with OSHA officials and is committed to protecting the best interests of our members. The easiest way for a CM to learn about OSHA's latest activities and requirements is by contacting SBCA. Staff members can answer your questions and provide you with information about what you may need to comply with recent OSHA changes. Be sure to subscribe to SBC Industry News and participate in ongoing dialogue with industry colleagues throughout the year at Open Quarterly Meetings, chapter meetings, and BCMC. Likewise, it's critically important that SBCA members contact SBCA staff when issues arise so that the association is both aware if OSHA is focusing on certain areas and can assist in working with OSHA on the issues or regulations in question. 
About the Author: TJ Jerke tackles local, state, and federal issues that impact the daily operations of component manufacturers, and explores what they can do to advocate for their needs in the marketplace.