MEXICO: A New Frontier for Truss Manufacturing
MEXICO: A New Frontier for Truss Manufacturing
An industry outsider strives to open a truss plant near Cancun
David Johnson is no stranger to entrepreneurial startups. His various endeavors include an appearance on ABC's Shark Tank, pitching a plan to harvest invasive Lion Fish in the western Atlantic and Caribbean. The idea came to him years ago while David was escaping the harsh winters of Minnesota and fishing off the coast of Mexico. "Fishing brought me to Mexico, but what I caught was the prettiest girl in town," David says with a touch of delight in his voice. He now splits his time between his construction contracting business in his native Minnesota and the Yucatan Peninsula near Cancun. 
It was during his time in Mexico that he became aware of the archaic construction methods used in local housing projects. "The Spaniards brought a masonry-heavy style of building with them 450 years ago, and frankly not much has changed," says David. Ever the builder, he couldn't help but think some of the techniques used in the United States could be applied to what he was seeing in Mexico. To him, there was an obvious lack of wood framed roofs. In the Yucatan, heavy clay or cement products are typically used as structural roof solutions, resulting in heavy applications that are time consuming to install and require large, significant foundations to support. "Wood roof and floor trusses save money the moment digging begins," David says. "With a wood truss roof and floor system, a building's foundation isn't required to support as much dead load, resulting in smaller footings and less time, materials, and effort excavating and pouring." 
A Truss Plant Is born
With an obvious advantage over these heavier materials, David sought to build a first-of-its-kind component manufacturing operation in Mexico. He quickly discovered that much of the housing in the local area is government driven and is primarily simple, row-type housing. With a young population to house and a high unemployment rate, David hopes manufactured components will be a perfect fit to both improve local construction practices through more material-efficient residential construction practices and fill an important societal need. 
David anticipates his component manufacturing operation will likely build large runs of simple common trusses, similar to how a great number of U.S. truss operations started out decades ago. Fortunately, because the Mexican government facilitates much of the residential construction, and it relies heavily on the opinions of local engineers, he knew where to start his sales pitch. "After just a few conversations, it's clear the engineers really like the truss product and are very excited at having access to it," says David.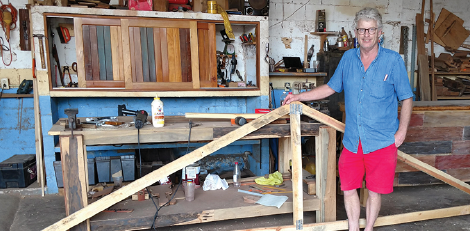 Getting Help
After identifying a clear need in the Mexican housing industry, and getting initial support from the local engineering community, David sought guidance on how to start his truss plant.
One step David took was attending BCMC 2019 in Columbus. He went primarily to better understand component manufacturing and gather as much information as he could about how others do it. "I went into the conference looking to network with anyone and everyone I could talk with and ended up learning a lot I didn't realize about roof and floor trusses," he explains. Beyond walking the show floor, David attended sessions and participated in SBCA's annual new member breakfast. In addition to making several new friends in the industry, David signed up for SBCA's Truss Technician Training (TTT). "I've since completed the course and have a much greater appreciation for everything that goes into truss design and fabrication," says David.
Originally, David started building roof and floor trusses with lumber harvested in Mexico's southern state of Chiapas. These were mostly concept trusses to illustrate the fabrication process and to help everyone appreciate the end product. However, in order to leverage U.S.-based plate suppliers and their proprietary design software, David has since turned to importing container loads of 2x4, 2x6, and 2x8 lumber to manufacture the trusses. "A lack of testing with the Mexican pine product makes it difficult to seal any of the truss designs we plan on manufacturing," he says.
Supporting a Local Community
"This is very much a social responsibility project as it is anything else," notes David. He is looking to employ people in the community to help him provide an incredible product to a growing region. As a result, local support appears to be strong for David's new truss operation: "The local engineers and architects are excited about this product, and can't wait to get their hands on it." 
"In their eyes, I am a modern builder looking to improve upon archaic practices in an area that is in need of safe and efficient home construction," says David. His hope is he will be able to significantly decrease construction cycle times, while also improving labor conditions for workers on jobsites. "I've watched a simple 20x20 structure take four people around three weeks to build. They are carrying buckets of mortar up ladders and relying on very difficult, manual processes to build the most basic of structures." David adds, "They are even using handmade chisels to bust out concrete when plumbing lines are misplaced in the concrete they pour. Given what they're doing today, I'm confident we can improve these situations with roof and floor trusses."
David is looking forward to leading a first of its kind component operation in the Yucatan Peninsula and wants to leave a legacy his children can continue. He is also excited about bringing manufacturing jobs to the local area. "I've picked up some of the Mayan language the locals speak at home," he says. "It's amazing to watch their faces light up when you are able to speak their traditional language and it's a great way to create a lasting connection with them." 
The operation is off to an encouraging start, recently receiving a request out of Tulum, Mexico, to build roof and floor trusses for 53 single-family homes. 
As David continues to work on his latest entrepreneurial endeavor he points out that he welcomes anyone willing to help, either in the form of a corporate responsibility partner or someone looking to add value in component manufacturing. You can reach David at
ducati4dave@gmail.com
. 
About the Author: Jess Lohse is a former CM and industry entrepreneur who lends his insights and expertise on the construction industry to motivate CMs to discover and develop new opportunities.