How We Build Our House
Core values live at the heart of Littfin Lumber's ongoing success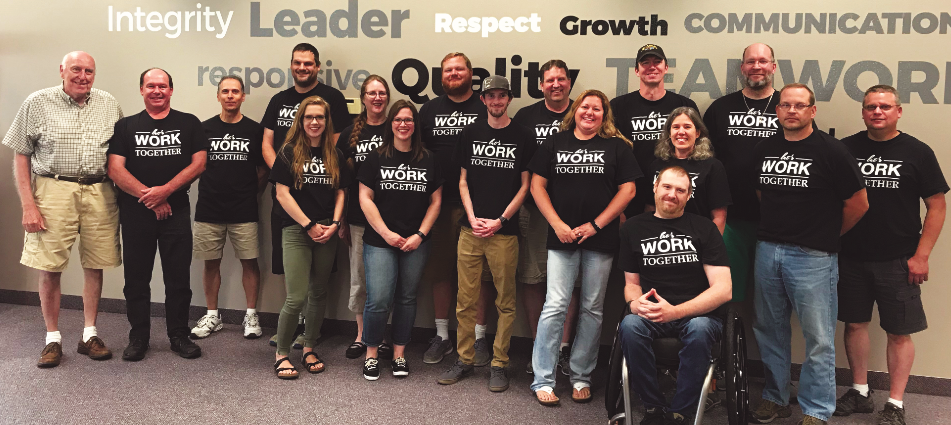 Jack Littfin (far left) checks in with the St. Cloud design team sporting their "Let's Work Together" t-shirts. Amy Johnson (pictured seventh from the left) is a design supervisor who helped work on the core values project. For Amy, Littfin became even more like family last summer as the group welcomed her daughter (pictured on her right), who had just completed her first year of college, as a summer intern. Amy says the opportunity "helped her solidify her plan to pursue structural engineering."
Littfin Lumber has always strived to be ahead of the curve. 
Shortly after starting the company in 1962, Jack Littfin took over his father's construction crews who were building agricultural and residential buildings in and around Winsted, Minnesota. Jack quickly recognized that building roof trusses with plywood gussets in their shop reduced the amount of time his framers had to be on the jobsite. "The pre-assembled trusses saved our crews days in the field," said Jack in a 2012 SBC Magazine article commemorating Littfin's 50th anniversary. "That allowed us to build a few extra buildings a month."
By the early 1970s, Jack had realized the benefit of switching from plywood gussets to metal connector plates, embraced the potential of using computer-aided design, and saw the value of getting involved in a fledging trade association of truss manufacturers called the Wood Truss Council of America. Over the course of more than four decades, Littfin expanded three times, becoming the single largest truss plant in the upper Midwest and employing 340 people at the height of the housing boom in 2005.
Now on the other side of the Great Recession, Littfin is home to 220 employees in three locations, many of whom have been there for decades. Boom or bust, people have always been the key to Littfin's success. "We never could have gotten that big, nor could we have gotten back to where we are now, without having the very best people for the job," says Jack.
Finding and keeping good people is another area in which Littfin seems to be out in front of the industry.
Establishing Core Values: More than a Corporate Retreat
It's easy to say that being successful in hiring and retention comes down to building an excellent company culture. It's another thing entirely to actually grow that culture inside an organization. As a family-owned business in a rural area west of Minneapolis, Littfin was built on a Midwestern work ethic synonymous with hard work, loyalty, and humility. These qualities generated a positive company culture that is valued by employees, but it often went unspoken and uncelebrated – until recently. A deliberate effort to define their core values led to a galvanized leadership team equipped to take the message companywide and provide a clear roadmap for Littfin's continued success.
Pictured left to right: Jack Littfin, Casey Simpler, Michelle Ketchelos, Tyler Merrill, and Brittany Entinger. Casey Simpler is a saw lead and backup shift supervisor who started as a stacker on the night shift in 2012. After a year, she moved to days where she trained on running the saw and then became a lead. Her advice to CMs who want to improve their workforce diversity? "You should always make new hires feel welcome – talk to them more, teach them as much as you can. If you reach out to a female new hire, it increases her wanting to stay, learn more, achieve more."
Judy (Littfin) Schmeling grew up watching her dad build the family business and started in the plant when she was 16. As a co-owner with her dad and two sisters, she has participated in Littfin's operations to varying degrees and in various roles over the course of the past 30 years. Since moving back to the area in 2015, Judy says she has been involved mostly "behind the scenes," including projects in the HR department. She says she attended BCMC 2018 in Milwaukee with a group from Littfin, and that is where the seed of establishing core values was planted. "We heard the idea in more than one of the breakout sessions,ˮ she remembers. "All of us were excited to take an idea home from BCMC to embrace and implement."
Roxanne Felder, Littfin's HR manager, has been with the company for almost seven years and was part of the BCMC group that shared Judy's enthusiasm. She says it was good timing because they had several long-time leaders retiring and new people joining their leadership team. "It became obvious to me. We've been fortunate to have a leadership team in existence for forty-some years, and that's unheard of," she explains. "But when some of the long-tenured leaders started to retire, I realized that there are many responsibilities they've inherently done that don't always get passed along when they leave." Realizing the need to preserve important pieces of the company culture caused Roxanne to start asking herself, "What are our core values?" 
To find out, Judy and Roxanne developed a list of questions and gathered 18 other leaders from the company's three locations to discuss the goals and challenges of each department and to share their perspectives about what makes Littfin a great place to work. "Honestly, it was the easiest process to go through," says Roxanne. "Everyone was so passionate about it." In four hours they had defined their five core values: Customer Focus, Integrity, Safety, Teamwork, Innovation.
"[They] were always there, just not always stated. It was fun to see a thread of the same things in the meetings we had," says Amy Johnson, a design supervisor at Littfin's St. Cloud location. Amy was excited to be part of the leadership team that worked on the core values. "It was also interesting to better understand what difficulties each department has," she says. "It opens your eyes to why something might be important to someone else and why it should be important to you when you consider a broader company focus."
After identifying "their words," Judy says that the group embarked on an offsite "leadership training program," four six-hour sessions in which a facilitator helped them dig into what each of the core values really meant to the members of the leadership team. "It solidified and reinforced that our company's strength is found in these five values," Judy explains. "It also strengthened the bond between our leaders." 
Bringing Their Words to Life: Beyond Ink on Paper
Roxanne says that once they had honed the five values as a small group, they "brought them to life" in a way that everyone could understand and connect with. They started with the Littfin logo and tagline, "A Company You Can Build On," and changed it up for internal purposes, using the basic structure of a house to communicate the five values to their employees: "How We Build Our House."
"The foundation of our house is being customer focused, by exceeding expectations with quality products, because if we don't have customers, we won't have a business, and we won't have jobs," HR Manager Roxanne Felder explains. "We build our walls with integrity – a commitment to trust, honesty, personal accountability, and loyalty – and safety, which goes hand-in-hand with integrity, as we produce safe products in an environment in which employees can raise safety concerns, find solutions, and ensure each other's well-being."
"The roof of Littfin's house is built with teamwork and innovation," she continues. "This means we form positive teams through respect and dignity, open and honest communication, and being a dependable, versatile workforce. As a family-owned business, we foster a family atmosphere where we value diversity and appreciate our coworkers. Innovation involves our team always being creative and problem solving and staying on the cutting edge because having a passion for new solutions allows us to continue exceeding customer expectations."
"These are a great reminder, but we understand that core values are about more than cool banners," says Bob Mochinski of the 12x20-foot signs that hang in Littfin's plant. "The younger generations are less materialistic," he says. "They want a bigger purpose, to be part of something. Roxanne does a good job of reminding the leadership team that these concepts should be a part of everything – meetings, reviews, discipline, etc. How they are integrated into every interaction is what's important. That gets rid of the fluff."
When it came time to roll it out in April 2019, "we tried to make it as fun as we could," Judy says. "We put up banners and magnets throughout all three locations. No matter where you are or what you're doing – design in St. Cloud, production in Howard Lake, or customer service in Winsted – you're seeing the same thing and working toward the same goal." The leadership team was instrumental in the success of the rollout, reinforcing the message of each core value in smaller meetings and discussing the practical applications in his or her department. "Employees aren't just seeing the words; their managers are talking about them," she says, a key aspect of building employee buy-in.
"I believe who Littfin is as a company needs to be clear to a potential new hire right off the bat," says Bob Mochinski, who has served as the vice president of operations for the past three years. Bob started with the company as a teenager in 1977 and has worn many hats over the course of more than four decades, touching almost every area of the company from truss design and engineering to customer service, sales, and now operations.
"I'm an old military guy," Bob explains. "The military does a good job of explaining 'who we are' before people enlist. Our core values have done a good job of that for Littfin. It's really paid off."
Hiring the "Right" People: The Rewards of Core Values
Littfin has partnered with Doherty Staffing for more than a decade, and Tanya Scott, a Doherty employee who works full-time at their manufacturing facility in Howard Lake, has become an integral part of the company's HR operations. She says that in the past few years her job has moved from "identifying candidates to implementing core values" with individuals who fit the culture. "If a candidate has the values we are looking for, Littfin is willing to make the investment in training them," she explains. "You can't teach values." 
Another way Littfin has found quality labor is through an H2B Visa guest worker program. Now in its fourth year, the company has had high retention among this group who comes from Mexico to work primarily in June through December. Developing this program has been a main focus for co-owner Judy Schmeling who says she wishes these guys could stay year-round "because they are awesome employees." Littfin has had such a good experience with the twelve visas they have been granted that they continue to re-apply for these workers each year and have even purchased property to help house the workers while they are in the states. 
Bob agrees. "If they are willing to learn, we are willing to teach them," he says. "It's often much easier to deal with someone who has never done it before. They're better listeners. Aptitude and ability to learn is important; attitude is where the rubber hits the road."
Sue Smykalski is an assembly lead with more than 40 years of service in Littfin's production department. "I've trained hundreds of people over the years," she says. "You learn something every day – sometimes through mistakes. You make a mistake, that's how you learn. There's always somebody there to help you out." In Sue's experience, Littfin has improved its retention over the years as they have worked to take the "right people," meet them where they're at regarding experience level, and ramp them up to the positions that need to be filled. 
Michelle Ketchelos is a good example. "This was something I'd never done, and I saw it as a challenge," she says of her almost two years working in the saw departments at Littfin. "Every day is a challenge in a good way." Also a backup sawyer, she says she is always learning, "Everyone here wants to teach you something if you're willing to listen."
Tanya says Littfin's core values also come through in the way the company presents itself to the community. She has been hosting "Walk-in Wednesdays" at Littfin for about five years, which has become known in the community as a time when anyone interested in learning more about a career in component manufacturing can stop in to take a tour and complete the application process. "People like what they see on the tours – it's neat, organized, automated," Tanya says. "Supervisors and managers are very welcoming." 
When she tours with potential employees, Tonya believes that seeing women in production roles demonstrates the company's commitment to valuing diversity, which in turn fosters a positive perception among women looking for employment. "Referrals are key," she says. "There is a shortage of candidates for everyone right now and competition is fierce," says Tanya. "People are looking at things like a company's core values, women maybe even more so. That's Littfin's focus."

Last summer employees at Littfin's Winsted office sported their Twins gear in celebration of Minnesota Twins Day.
Valuing Diversity: Another Kind of Bottom Line 
"Hiring to our core values improves our culture," says Judy. "Now we know we're hiring the right people because of what we're implementing with a cohesive leadership group, and that's given us a lot of diversity."
"It comes down to being valued. When everyone appreciates individual differences and their past work experiences, high performing teams flourish," says Roxanne. In addition to a successful H2B Visa program that has everyone anticipating the annual return of workers from Mexico, both Tanya and Roxanne commented on how many more women they hired in production roles in 2019 and how much retention among female employees in the plant has improved over time. "Appreciating people's differences is what fuels our success."
"I appreciate all the opportunities that Littfin gives equally to men and women who want to do their job to be the best they can be," Amy says. "I think that the more diversified you are, the more you open new doors to finding more quality people and different perspectives."
"When you start living and breathing your core values, it becomes contagious," Roxanne explains. "These core values open people's minds." 
About the Author: Mindy Caldwell explores the creative ways component manufacturers approach workforce development and find success building their employment base.