Have a Policy to Review Your Policy
Have a Policy to Review Your Policy
Changes in state laws require a fresh look at drug use policies.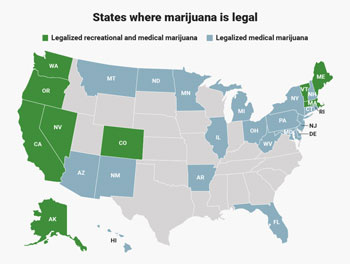 While marijuana remains illegal at the federal level, as of January 1, 2018, recreational marijuana is legal in nine states and medical marijuana is legal in 29 states. As more states legalize marijuana for medical or recreational use, component manufacturers are confronted with potentially needing to adapt their drug policies.
In Colorado, medical marijuana has been legal since 2000, while recreational marijuana was legalized in 2012. "Nothing's really changed for us," says Richard Stowe, operations manager at Builders FirstSource, Inc. (BFS) in Dolores, Colorado, when asked about updating their drug policy post-legalization. "We have kept a no-tolerance policy."
Richard explains that they mostly "work with a local temp agency, so by the time someone comes in for an interview, they've already passed the drug screen at the agency." When an employee completes their 90-day probationary period, they then have to pass another drug test before they can be hired full-time.
California, on the other hand, legalized medical marijuana in 1996 and recreational marijuana this year. "Because we knew it was coming, we changed our policy earlier than the January 1 deadline," explains Jason Ward, VP of HR & safety at California TrusFrame (CTF) in Perris, California. "Now, our pre-employment drug screen is a nine-panel toxicology, but we removed the requirement for cannabis."
Even though they don't screen for marijuana, CTF still has a zero-tolerance policy when it comes to being under the influence on the job. "It's still, obviously, not permissible to work while under the influence," Jason clarifies. To help enforce their workplace policies, both CTF and BFS employ pre-shift meetings as a way to touch base with each person before the day begins.
"Every day we have a morning safety huddle," says Richard. "We spend a few minutes going over the previous days' numbers, any safety issues, and the plans for the day." This provides an easy way for Richard and other managers to see how everyone is functioning.
Jason sees pre-shift stretching and calisthenics as even more effective than drug screening. He explains that CTF's morning meetings give them up close and personal time with the employees. "When you're that close," Jason notes, "you can smell alcohol or marijuana."
Since marijuana remains illegal on the federal level, there is no obligation to allow employees to use marijuana off the clock. However, as state laws trend toward legalization, it's not a bad idea to take a fresh look at your company's current drug use guidelines. The challenge is having a policy that balances risk management and safety with attracting a viable workforce and developing an effective workplace culture.
Visit sbcindustry.com for more details in the "Marijuana and the Component Manufacturer" Topical Library.
About the Author: Molly Butz searches for industry best practices that can help component manufacturers grow a stronger safety culture throughout their operations.
 
OSHA Anti-Retaliation Regulations:
New OSHA regulations prohibit employers from retaliating against employees for reporting workplace injuries and illnesses. Drug and alcohol testing is not mentioned specifically in the final rule itself, but OSHA has made it clear that, at least in some circumstances, post-accident drug and alcohol testing could be perceived as a retaliatory practice. "We no longer do blanket drug testing after an incident," explains Jason Ward. "We need to have reasonable suspicion that the person or persons involved were under the influence of drugs or alcohol before we consider a drug test following an incident." OSHA's goal with the new regulation is to ensure workers are not discouraged from exercising their right to report workplace injuries and illnesses. The new rule encourages employers to review all of their disciplinary, incentive and/or drug testing programs. See OSHA's website for more information.