Get the Whole Gang Together!
Get the Whole Gang Together!
One of the best ways to ensure your remote designers feel like an integral part of the team is to make an effort to get everyone physically in the same place from time to time. Dan Morris, truss design manager at Apex in Jacksonville, Florida, notes that while they have regular interactions over the phone or through online meetings, they've also learned that "you need to have face-to-face time" to keep the team unified.
It may sound basic but actually getting everyone in the same room, whether it's for professional development or to socialize, is an important investment. "We plan a big corporate summer cookout and have all of our designers come up for the party," Dan explains. They also get together for lunches, minor league baseball games and other social outings. Dan uses each of these opportunities, where everyone is in the same location, to provide training while also giving the remote folks a chance to hang out with the office folks.
If your team is less spread out, it's easier to encourage face-to-face meetings. Jason Walsh, vice president of sales and design at California TrusFrame in Perris, California, and his director of design, Phillip David, travel to each of their regional California facilities to interact with all supervisors and managers. "Whenever we can, we keep them engaged with everything going on in the company," Jason explained.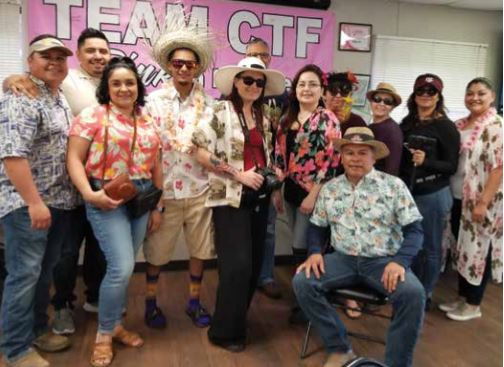 One example of CTF's teambuilding is their ongoing "Fun Friday." Each Friday has a theme and employees are encouraged to participate by dressing accordingly then submitting photos to the main office. A recent Fun Friday had everyone in vacation mode as they dressed up for tourist day. The "friendly competition gets everyone involved" and brings the teams together "not just for work but for enjoyment," says Jason.
Sometimes getting all of your team together can be difficult, so consider other options if time, budget, or workload are in the way. "We've flown our remote designers in individually to have them meet with people in the building," shared Casey Carey, vice president of manufacturing at Builders Warehouse Manufacturing in Aurora, Colorado. 
In 2019, Casey and his design manager, Craig Overturf, have several exciting ideas in the works. Currently, the plans include getting their design group together in Colorado for training utilizing SBCA's recent five-part webinar series, "Loads on Trusses." In addition, Craig hopes to bring in a local engineer and/or architect for a roundtable discussion with the designers. "It would be helpful to learn directly from them how they review our information," Casey explains. And they hope to invite their software vendor in for some group trainings one or more times in the near future as well.
Whether your remote de-signers are driving in from a couple of hours away, or flying in from half way across the country, all of the guys feel strongly that no matter where they are it's crucial to bring them all together as often as possible. They also agree that the time spent as a group should include work-related as well as social activities to build the very best team. So whether you are getting together once a month or once a year, make it count! 
Plan face-to-face events and capitalize on special occasions to bring your team together 
Geographically restricting your search for qualified truss designers can limit your ability to find the most talented candidates. On the other hand, hiring remote designers brings with it concerns about productivity, scheduling, communication, technology, lack of community, and more. Through understanding other component manufacturers' experiences, you can build your best team no matter where your truss designers sit.
About the Author: Molly Butz searches for the ways information technology shapes and fosters ingenuity in the component manufacturing industry.