Fountain of Youth
C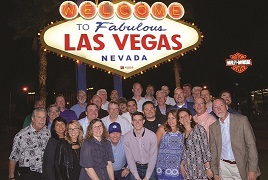 ontrary to the popular marketing slogan, not everything that happens in Vegas should stay in Vegas. For one, the SBCA group photo in front of the city's iconic welcome sign, taken during the most recent Open Quarterly Meeting (OQM), needs to be shared.
Another thing that shouldn't stay in Vegas is the "youth movement" that unexpectedly sprang up during those two days of discussion. What started as a frank observation that industry leadership needs greater participation and buy-in from the younger generations led to several productive ideas on how to begin achieving that goal.
"I think about when my dad started bringing me to SBCA meetings and it reminds me I now have a responsibility to start bringing the next generation," said Joe Hikel. Joe's son, Jason, has been heavily involved in the SBCA IT Committee, but Joe's observation that Jason needs to regularly attend in-person meetings in order to forge lasting friendships and fully participate in the work of advancing the industry struck a chord with several participants.
The idea resonated, for example, with 23-year-old Jared Dix. Jared's father, Larry, got his start in the structural components industry in the mid-1980s. He founded Apex Truss in 2000 and has been producing roof and floor trusses out of Warsaw, Virginia, ever since. In 2015, Jared joined the Apex Truss team and introduced a fresh perspective to the company. He's been leading the push to build the company's brand on social media and change how the truss industry is presented to a young potential workforce.
"I think one of the areas where our industry can really shine is sharing how cool some aspects of truss manufacturing are," said Jared. "How the software allows us to 3D model the entire house. How that software can talk directly to the saws. How even the production tables can be automated, and how the entire product can be made precisely in just a few minutes."
In an effort to share how cutting-edge technology is used in the component manufacturing industry, Larry and Jared have launched trusstales.com. Their vision is to tour production facilities across the country and highlight how different component manufacturers do what they do. "This is about promoting our industry and our products, not only to increase sales but to bring more young people like me into this industry," said Jared. "Now that I'm in it, I'm hooked, and I think others will feel the same way if we draw them in."