Faces of the Industry: Tim Noonan
Faces of the Industry: Tim Noonan
How'd you get into this industry?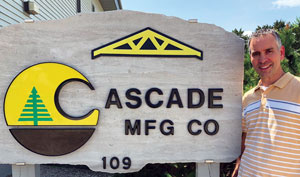 I'm the third generation involved in our family business. My grandfather, Ray Noonan Sr., started the company on May 19, 1953. However, he missed his first day of work because it was also the day my uncle Mike was born. My father Ray Jr., Mike, and my uncle Pat eventually took over running the manufacturing side of the business and it never really crossed my mind that I would end up working here. I think that's typical of the difference between second and third generation when it comes to family businesses.
I was a Management Information Systems (MIS) major in college and started out working in IT at a very large company. After five years I realized how the red tape of a large corporation wore on me and how much I hated my job. I didn't really want to move too far from home so I eventually reached out to my family and began exploring what it would look like for me to work for our business. The funny thing about being part of the family is you don't have as much choice as you'd think, you really are expected to fill in where the need is greatest. In this case, I abandoned IT and went to work with my uncle Mike figuring out how to make our cold-formed steel (CFS) component division successful.
It was an emerging part of our company back in 2002, and I think my complete lack of experience on wood component manufacturing actually helped a lot. Those two processes are very different and since I didn't have any preconceived notions on how it should be done, I was able to bring a different perspective to our operations. Eventually, I was able to leverage my experience doing big commercial jobs on the steel side to help out with multifamily projects on the wood side. Along the way I was continually groomed to eventually take over my dad's position as president of the company a few years ago.
What's your favorite part about being in this industry? What could you do without?
My favorite part of this industry is watching a conception turn into reality. An idea that starts out as nothing more than a napkin drawing eventually results in a set of architectural drawings. Our industry then turns those plans into an actual structure. I appreciate how much architects really rely on us to make their ideas a reality. There's a real sense of accomplishment when you look out on the production lines and watch the individual components get built and loaded on a truck for delivery. In the end, you can walk around the finished building and marvel at the initial conversations you had with the architect when the building was conceived. Having that tangible proof that all the hard work was worth it never gets old to me.
The one thing I do struggle with is the lack of good communication that occurs during the building's construction. Too many different entities are involved and they rush in to do their part. Too often that rush results in missed details and installation errors that could have easily been taken care of if everyone communicated better. In the end, we fix a lot of things that weren't our fault.
What's your company, market, or SBCA chapter focused on right now?
Our biggest challenge is one I think everyone in the industry is facing: trying to hold a margin level we are comfortable with in light of dramatic lumber cost increases. In some ways it can be our worst enemy in that our veteran staff can look at a set of plans and know how much it should have cost. However, with historic lumber costs those estimations are no longer accurate. When each car of lumber we unload sets a record high, our component package costs need to reflect that change. We are busier than we've ever been, and we should be compensated for all that hard work, not just break even.
What challenges do you see for the industry in the future?
I think my biggest worry is the affordability of construction. With rising material and labor rates, compounded by rising interest rates, I'm concerned more homes and businesses will become unaffordable. Eventually, people are just going to walk away and say it's too expensive for what you get and then where will demand go? It's a real issue on the steel side of our business. We are bidding now on large, long-term commercial projects. If the costs of constructing those buildings gets too high, the projects just get shelved.
It's beginning to feel like 2005 again with such a strong backlog. The only difference is that back then there was an obvious oversupply, whereas now supply seems to definitely be lagging behind demand. It seems too good to be true.
When you're not thinking about trusses, what keeps you busy?
I think that question is phrased backwards. I have four kids at home and all of them are heavily involved in a lot of activities. It's more like I'm trying to fit work in around a very busy home life. I love it. We try to travel together as much as we can. I like to make them all hike out in the wilderness, so we target national parks. This summer we're going to go to Yellowstone, but the kids got their trip to the beaches of Mexico earlier this year.