Faces of the Industry: 2017 SBCA Award Winners
Faces of the Industry: 2017 SBCA Award Winners
To kick off BCMC, SBCA recognized those whose hard work and dedication make this industry what it is.

Outgoing SBCA President Jack Dermer passed the gavel to incoming president Jim Finkenhoefer. "I know Jim will do great job leading the association through the upcoming year," said Jack. "He will prove to be strong leader."
"It's truly humbling and an honor to follow someone who has shown such great leadership and enthusiasm," said Jim. "I hope to live up to the high standards Jack has set this past year, and I will continue to rely on him for guidance!"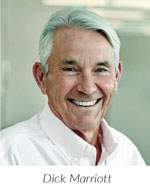 Jack Dermer presented the first annual Dwight Hikel Humanitarian award to Joe Hikel. This award recognizes an individual notable for a mentoring spirit and generosity in philanthropic activities. Jim Finkenhoefer presented Barry Dixon with this year's Industry Leadership award, a recognition of someone who has helped nurture, support and grow the structural building components industry with their vision, innovation and creativity. The Dick Bowman Industry Enthusiast award went to Dick Marriott, president of MiTek, who plans to retire at the end of 2017. Named in honor of a long-time BCMC and SBC Magazine salesman, whose enthusiasm and support of the component industry never wavered, this award honors an industry supplier who consistently brings an all-around good attitude and joy to BCMC.
Finally, Greg Griggs inducted Rick Parrino into SBCA's Hall of Fame, recognizing his significant and ongoing contributions to the industry as well as to the growth and success of SBCA. "This means a lot to me because it came from my peers, my friends," said Rick. "I would not be as good at what I do if it wasn't for the great people [in SBCA]. It is a privilege for me to be part of such a great organization."
Congratulations to all, and a very happy retirement to Dick Marriott!