Communication Is Key
Learning what framers want and need is as simple as asking.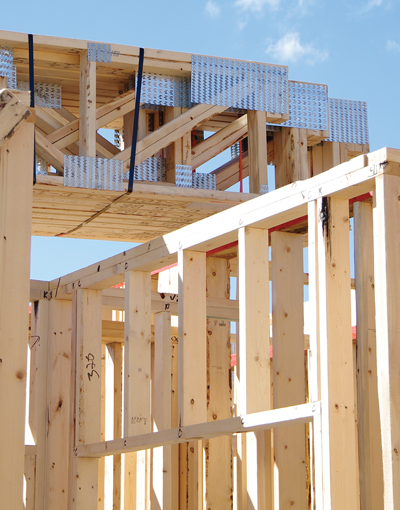 "Every carpenter's favorite past-time is criticizing another carpenter's work. Every guy on my crew with experience knows when they see shoddy work." Chris Tatge doesn't mince words because his framers don't either. The crew at Tatge's Dynamic Construction in Madison, Wisconsin pride themselves on quality work and they demand the same from component manufacturers. It's a relationship that starts with communication.
First: Listen
"How much component manufacturers are willing to meet and plan with us before the build is important to me," Tatge said. "The more time they spend with us figuring out what we need, the more inclined I and other framers are to use them."
Ken Cloyd agrees. Cloyd, chairman of the board of California TrusFrame, says good component manufacturers are always striving to consider whether something makes practical sense when building components. Listening to end users—framers—helps California TrusFrame determine the best way to construct components while ensuring the product is structurally unimpeded.
"The component manufacturer has to listen to what the framer wants," Cloyd said. "Now, that's easier said than done because what they want doesn't always work. A lot
of times you can tell if something's going to work or not, but you have to listen first."
"If floor trusses come out in the order they are to be set, it saves framers a lot of time." – Chris Tatge
"Sequencing deliveries is big. If floor trusses come out in the order they are to be set, especially on tight jobsites, it saves framers a lot of time," Tatge said. "Bundling is another issue. In my experience, CMs prefer to use longer corridor or party walls as the base to stack other walls on. We have to then take off all these interior walls on top to get to the exterior walls on the bottom, so framers prefer to have separate bundles for each type of wall."
Pat McGowan, vice president of operations at Brunsell Lumber & Millwork in Madison, Wisconsin agrees with Tatge on deliveries being a major concern. "Each bundle needs to be labeled with where it goes, and the bundle itself needs to be in sequence. They need to spread it out for installation," McGowan said, so framing crews don't have to sort through the bundles to find what they need next.
Listening to quality critiques separates great CMs from average CMs. 
Second: Stand Out
There will always be a struggle to discern the best shipping or stacking method because each job presents its own set of obstacles, whether that's lot size, building layout or even traffic. Communication is the only way to keep both CM and framer happy, and it doesn't stop with deliveries.
McGowan says framers in the past have communicated the need to ensure tight component fit. Installers prefer tight joints and laps along with flush component members because it's easier to assemble a tight, sealed building when the components are assembled the same.
Tatge says the craftsmanship of the components certainly has a large bearing on who framers work with well. "We'll tell the general contractor right away if we see problems with any of the components," Tatge said. "We look for things like top plate gaps at lap joints, missing partitions, studs that aren't flush or are hanging over to the outside, and exterior walls with end studs that may have a bowed stud." Those are the sorts of critiques that get back to a general contractor who has purchased the trusses, or to the truss manufacturing company itself.
Listening to quality critiques from the field can be harder than working out the logistics of delivery and bundling though. No one likes criticism, and sometimes it can even be hard to get. Quality and craftsmanship issues will probably be communicated to a CM, either directly by framers or through a builder or contractor. Smaller issues, like sequencing or bundling, might end with jobsite grumbling. It's not easy for CMs to develop the communication channels that let them pick up on the minor critiques that don't turn into complains but do drive future purchasing decisions.
The good news? The effort is worth it. Finding ways to listen to framer feedback separates great CMs from average CMs.
McGowan makes a point that flexibility might be a CM's best business trait because it fosters relationships with numerous general contractors and framers, each with their own circumstances. "I like to think the only way we both got the job is to be the lowest bidder. So CMs and framers have to ask themselves, 'how do we make this work well for both of us?'"
Cloyd has the same mantra. "If you do something different than your competitor, you've shown to your customer you're willing to help them. Maybe it's at an extra cost, but it helps differentiate yourself from others," he said. "Too many times guys say, 'Joe down the street isn't going to do it so I'm not either.' But if you go that extra mile, you'll likely get more work and build relationships." 
About the Author: A graduate of UW-Madison with a degree in Journalism, Matt Tanger has five years of experience in residential home construction. As a technical writer and member of the SBC Magazine team since 2014, he works closely with members of NFC and SBCA.