Better Safety Can Lead to Faster Truss Production
Better Safety Can Lead to Faster Truss Production
If you're only tracking lagging indicators, like OSHA recordables and lost days, you're missing out on a big opportunity to prevent future incidents and improve the safety culture in your plant. Leading indicators, on the other hand, present you and your team with an opportunity to track improvement and promote proactive behavior. (See block below.)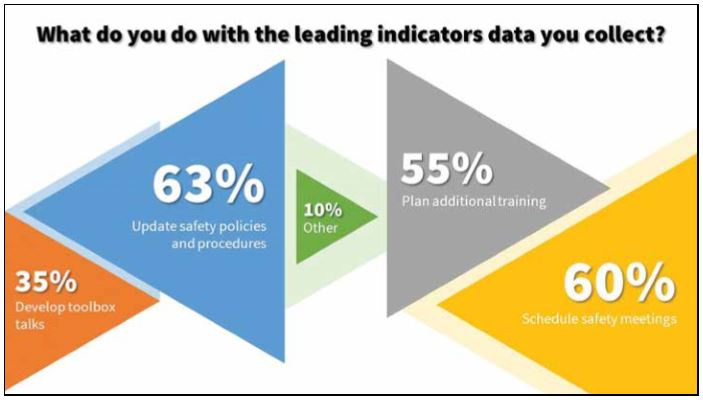 In the 2018 SBCA Safety Survey, component manufacturers (CMs) were asked which leading indicators they were currently tracking. Everything from housekeeping and safety meetings to employee audits and near-misses were on the list. But even if you're tracking them, the key to incremental improvement is following through on these numbers with targeted action.
One thing the inaugural safety survey asked respondents was to clarify what they do with the leading indicators data they collect (see right). SBCA's Safety Committee Chair Jason Ward, vice president of human resources at California TrusFrame LLC (CTF) in Perris, California, reviewed the answers in a recent SBCA Webinar. While it's great to see so many CMs using the data to update policies, plan training or schedule meetings, Jason was quick to ask the key question, "why not do all of it?" When it comes to keeping your employees safe, it's actually difficult to "do too much." 
"My philosophy," Jason explains, "is that we produce components as fast as is safely possible. Safety and production have to go hand in hand." Even one incident can have a dramatic impact on production efficiency when it shuts down a line or pulls multiple employees away to tend to an injury.
If you're collecting data, and it's telling you that you're going to have a problem surrounding a specific leading indicator, do it all: update your policies and procedures, plan some additional training, schedule a safety meeting, and give a toolbox talk. 
Keeping safety front and center is a critical part of a successful component manufacturing operation. "Safety, production, and quality form a three-legged stool," Jason concludes, "if you knock off any one of those the stool doesn't stand." 
What Are Leading Indicators?
From the December 2016 SBC Magazine article "Why Track Leading Indicators?"
…traditional safety metrics are reactive, bottom-line numbers that can only provide after-the-fact information. They are past accident statistics that are not focused on prevention.
California TrusFrame (CTF)…focuses on leading indicators like "employee training, safety assessments and audits, and a near-miss reporting program." Performance-focused benchmarks allow [CTF]'s safety team to "track improvement and force proactive behavior" instead of fixating on failure-based information. A near-miss reporting program helps the CTF team be "predictive and track impact versus intention."
Implementing a near-miss program is an easy first step toward a proactive safety culture. All you need is a form to collect the location, date, time and description of the incident.
About the Author: Molly Butz searches for industry best practices that can help component manufacturers grow a stronger safety culture throughout their operations.