Feb Residential Construction Employment Up Over 2020
Originally published by: NAHB — April 2, 2021

The following article was produced and published by the source linked to above, who is solely responsible for its content. SBC Magazine is publishing this story to raise awareness of information publicly available online and does not verify the accuracy of the author's claims. As a consequence, SBC cannot vouch for the validity of any facts, claims or opinions made in the article.
Total payroll employment rose by 916,000 and the unemployment rate declined to 6.0% in March. The labor market is improving as many states ease business restrictions and more people are vaccinated.
Residential construction employment increased by 37,000 in March, while non-residential construction added 73,100 jobs. Currently, employment in residential construction surpassed the level in February 2020, while only 64% of non-residential construction jobs lost in March and April have been recovered. Aggregate construction industry (both residential and non-residential) employment totaled 7.5 million in March.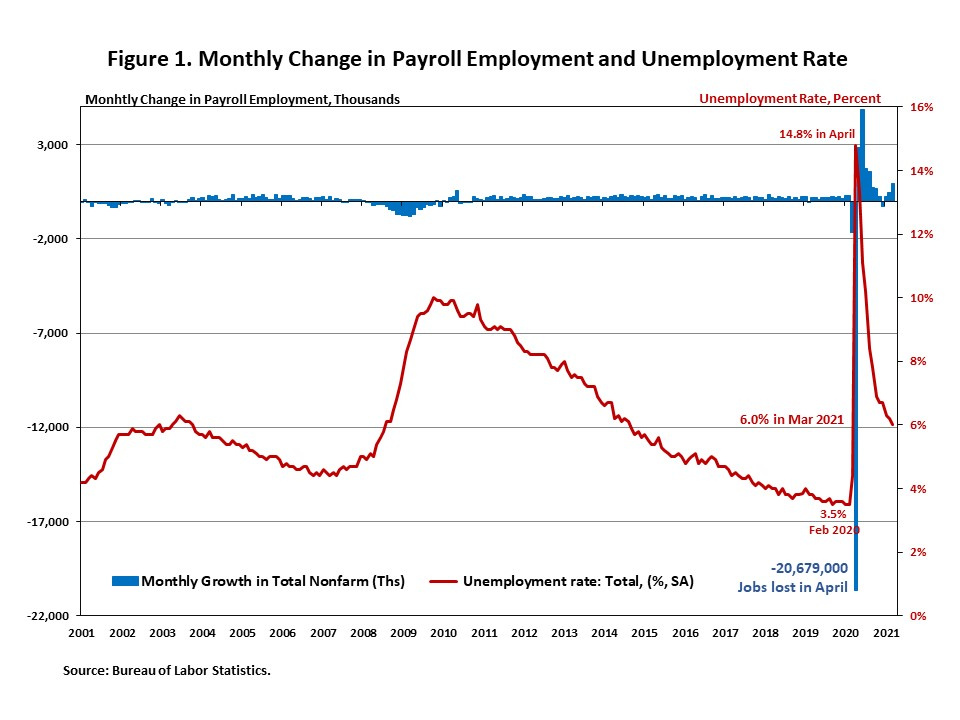 In March, total nonfarm payroll employment increased by 916,000, reported in the Employment Situation Summary. It marks the third consecutive gain after a decline of 306,000 jobs in December and the largest gain since August 2020. The previous two months' gains were revised higher. The January increase was revised up by 67,000, while the February increase was revised up from 379,000 to 468,000.
The economy lost 22.7 million jobs in March, April and December of 2020 due to the impact of the COVID-19 pandemic. In the past eleven months, 14.3 million jobs have been recovered, however, total nonfarm employment in March is still 6% lower than its February 2020 level, a year ago.
Meanwhile, the unemployment rate edged down to 6.0% in March. It was 8.8 percentage points lower than its recent high of 14.8% in April and 1.6 percentage points higher than the rate in March 2020. The labor force participation rate, the proportion of the population either looking for a job or already with a job, inched up to 61.5% in March.
Employments increased broadly in multiple industries in March, led by gains in leisure and hospitality, government, and construction.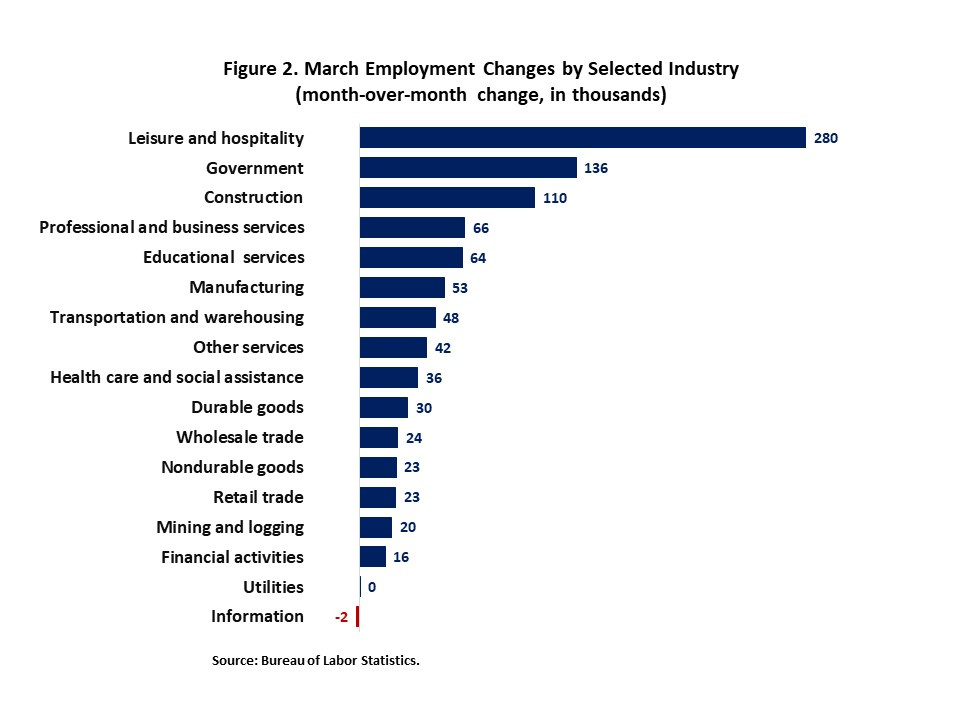 Additionally, according to the Household Survey supplemental data, which come from questions added to the Current Population Survey (CPS) since May 2020, 21.0% of employed persons teleworked in the last 4 weeks specifically because of the coronavirus pandemic in March, down from 22.7% in February. In March, 11.4 million persons reported that they had been unable to work at some point in the last 4 weeks because their employer closed or lost business due to the coronavirus pandemic. Among those who reported that they were unable to work due to pandemic related closures, 10.2% received at least some pay from their employer for the hours not worked.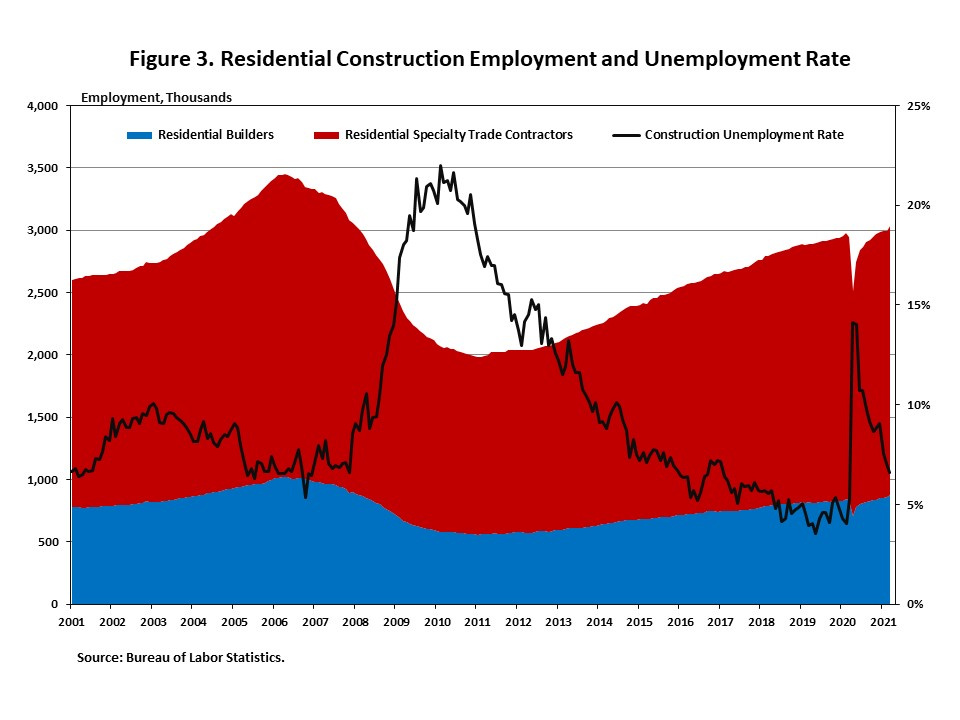 Employment in the overall construction sector rose by 110,000 in March, after 56,000 job losses in February due to the severe winter weather in some states. Residential construction added 37,000 jobs in March, after a decline of 2,900 in February. About 518,000 residential construction jobs were created in the past eleven months, offsetting all the 471,800 residential construction jobs lost in March, April of 2020 and February 2021.
Residential construction employment now stands at 3.0 million in March, broken down as 873,000 builders and 2.2 million residential specialty trade contractors. The 6-month moving average of job gains for residential construction was 17,633 a month. Over the last 12 months, home builders and remodelers added 87,900 jobs on a net basis. Since the low point following the Great Recession, residential construction has gained 1,047,900 positions.
In March, the unemployment rate for construction workers declined to 6.6% on a seasonally adjusted basis. After reaching 14.1% in April due to the impact of the COVID-19 pandemic, the unemployment rate for construction workers has been trending lower for the past eleven months.