BFS-BMC Merger Deal Receives Federal Approval
Originally published by: HBS Dealer — November 16, 2020

The following article was produced and published by the source linked to above, who is solely responsible for its content. SBC Magazine is publishing this story to raise awareness of information publicly available online and does not verify the accuracy of the author's claims. As a consequence, SBC cannot vouch for the validity of any facts, claims or opinions made in the article.
Builders FirstSource and BMC reported that they have cleared preliminary government approval for a proposed super merger.
The pair of lumber and building material distributors announced today that the early termination of the waiting period under the Hart-Scott-Rodino Antitrust Improvements Act of 1976 (HSR Act), effective on Nov. 13.
This concludes the Department of Justice's HSR Act review of the proposed combination of the two companies. 
Builders FirstSource and BMC expect to close the transaction in late 2020 or the beginning of 2021, subject to the approval of the stockholders of each company, as well as the satisfaction or waiver of the remaining closing conditions. 
The special meetings of each company's respective stockholders relating to the proposed combination are scheduled to be held on Dec. 22. Each company set the close of business on Nov. 13 as the record date for determining its stockholders who are entitled to notice of, and to vote at, its stockholder meeting. 
"We are pleased to receive this clearance," said Chad Crow, CEO of Builders FirstSource. "We look forward to becoming the nation's premier supplier of building materials, services and solutions when the transaction is completed. We are excited about the opportunities ahead and plan to quickly realize the benefits of this new, larger platform." 
Crow will step down as CEO following a transition period once the merger has been finalized. He will be succeeded by BMC CEO Dave Flitman who will become the chief executive of the combined company.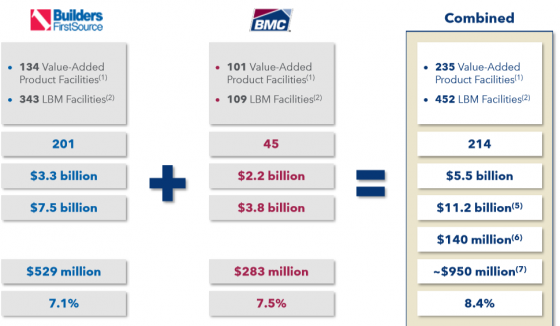 The combined numbers involved in a Builders FirstSource and BMC merger.
"We are excited to take this additional step toward completing the strategic combination of two great organizations," Flitman said. "Building on our shared commitment to helping customers thrive through our innovative services and solutions, we will have an expansive geographic footprint and enhanced local relationships in attractive, high-growth markets, allowing us to accelerate our growth strategy and create shareholder value."
Combined, the two companies will create a building materials supplier and builder services provider with more than $11 billion in annual sales.
Upon completion of the merger, existing Builders FirstSource shareholders will own approximately 57% and existing BMC shareholders will own approximately 43% of the combined company on a fully diluted basis.
Following this merger, the combined Builders FirstSource and BMC will operate a network of 550 distribution and manufacturing locations in 42 states, including 44 of the top 50 metro markets. The company will also have a workforce of more than 26,000 team members.
The pair of pro dealers recently issued an update that illustrated the potential after joining forces.