How Can Kool Towels & Mobile Apps Keep Crews Safer in the Heat?
Originally published by the following source: SBC Magazine — May 12, 2020
by TJ Jerke with contributions from Mindy Caldwell & Kirk Grundahl
"Safety is everyone's responsibility," says Laura Smith, training and safety coordinator with Innovative Construction Group in Jacksonville, Florida. She says it is particularly true as the summer months set in and temperatures begin to rise.
To keep their employees cool during the summer of 2019, ICG provided free Kool towels that remain cold for 1-4 hours once water is applied.
"As the warm weather approaches we are beginning to ramp up our safety training to make sure employees do not wear themselves out while on the jobsite," Laura says. "We make sure they know that we do not push production over their safety and provide them with the proper tools and training to get home safely."
According to an OSHA investigation into occupational heat-related illnesses (HRI) from 2011 – 2016, researchers looked at several characteristics of workers, employers, and the HRI events. An HRI on the jobsite can begin as a heat cramp or heat rash that progress to something more severe like heat exhaustion, heat stroke, and possible organ failure. Symptoms of heat exhaustion include headache, dizziness, nausea, thirst and others. Symptoms of a heat stroke include confusion, fainting, and lack of perspiration.
The study found that most (74 percent) of the heat-related fatalities occurred during the first three days of work, primarily in cases where employers did not provide important HRI prevention elements such as acclimatization programs, work/rest cycles, and training. Almost all HRIs occur when employers do not adhere to preventative guidelines.
These preventative methods should never be taken lightly, Laura says, especially acclimation programs, which can take up to two weeks.
To ensure a safe workplace, Laura says ICG provides training on the signs and symptoms of heat illnesses, electrolyte drink mixes for their employees to add to their individual water bottles, cooling towels, and the comfort of knowing that they should find a shady spot or turn on the air conditioning in the truck if they are not feeling well.
ICG uses an online learning management system and NFC's FrameSAFE program to educate, quiz, and track their employees' knowledge of safety materials. FrameSAFE offers two Toolbox Talks outlining best practices for working in warm weather conditions (Preventing Heat Illnesses and Sun Exposure).
In addition to ongoing training, Laura recommends that framing crews download OSHA's Heat Safety Tool to better understand their daily working conditions. This mobile app uses GPS to determine the temperature at the user's location and then provides the steps to take to prevent heat illness. OSHA also recently announced that a new video on heat hazard recognition and prevention will be available beginning May 19. Registration is free.
"We highly encourage our crews to act as a team throughout a jobsite," Laura says. "When things like heat exhaustion affect your mental state, it's not going to be easy to take care of yourself."
Related Articles: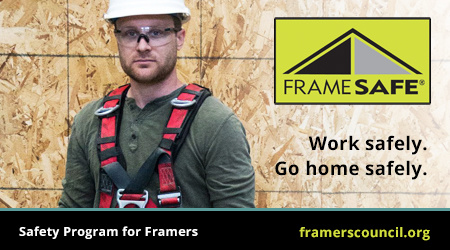 ">