Framers Get 'Sage' Advice on Safety
Originally published by the following source: SBC Magazine — May 21, 2020
by TJ Jerke with contributions from Mindy Caldwell
Framers can do their jobs efficiently and effectively, even while following critical safety standards, says Andy Sage, owner of Straight Up Framing and Sage Building Components in Ames, Iowa.
"If safety slows you down and you can only work at a quarter of the speed, you probably aren't going to do it," Andy told a group of over 60 contractors and builders from Wisconsin, Iowa, and Illinois. "The NFC's goal is to improve your safety without totally affecting your performance; after all, we all go to work to make money but we have to be as safe as we can be."
Andy's words resonated well with the group of framers during the 45-minute presentation he provided as part of the Amwood Framing Crew Seminar, a day-long training organized by Amwood Homes in late February. Amwood Homes, which provides structural building components to the subcontractors in the room, brought them to Madison, Wisconsin, to thank them for their work and update them on new company products, policies, and procedures.
Andy, who joined the National Framers Council (NFC) in 2018 because of its primary focus on safety, was invited to speak to the group about an array of safety and framing topics as well as the benefits of joining NFC and subscribing to its FrameSAFE program.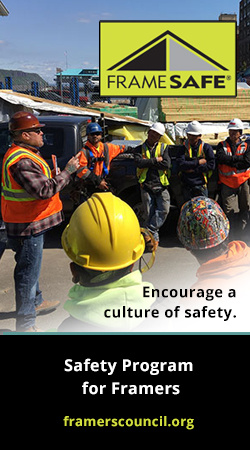 "FrameSAFE has been very good for us to show us how unsafe some of our operations were," Andy said. "It's helped us improve on safety without impacting our performance."
Andy's presentation covered extension ladder rules, guardrail and scaffolding guidelines and requirements, and a demonstration of Personal Fall Arrest Systems.
Dave Dorn, plant manager for Amwood, says the seminar was a perfect way for them to get in front of the framing crews they work with and make sure the company keeps them updated on company changes, highlights some installation best practices, and "gets everyone on the same page with what our customers expect and industry standards to keep our contractors safe and productive."
"We all continue to get better, and the more information we put in front of them and talk about things as a group, the better we all become," Dave says. "This event provides the opportunity for open discussion and a chance to find out where we can improve our internal processes and help them get their job done more efficiently and have a happy customer."
In its second year, the seminar has already provided tangible benefits for the framing crews and Amwood. Dave says there was a noticeable reduction in callbacks after the inaugural 2019 seminar, a testament to why Dave recommends other builders and component manufacturers consider hosting a similar event with their contractors.
"You can't hurt yourself by doing this; nothing but good things can come from it," Dave says. "If you're not working with them on a daily basis, this is the next best thing."