Do You Know About These COVID-19 Resources?
In mid-March, when COVID-19 began to have a significant impact on normal business operations, SBCA jumped into action to track ongoing developments, create tools and gather best practices that would help component manufacturers (CMs) navigate the ensuing challenges as best as possible.
To stay on top of developments, SBC Magazine sent out daily Industry News-Special Edition email with links to stories about everything from workplace cleaning and work-from-home strategies to information on how the virus was transmitted and the search for treatments and an immunization.
SBCA also collected a wide array of pertinent and timely resources to give component manufacturers information and tools to react appropriately to the threat of COVID-19 transmission.  All of those resources were collected onto one page and organized into topical areas from business operations to podcasts.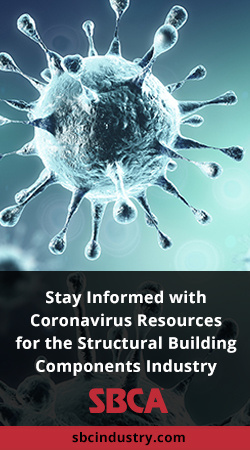 SBCA Legal Counsel Kent Pagel hosted a series of webinars to give CMs ongoing advice on how to interpret various state and local executive orders, understand and comply with regulatory changes and take advantage of recently passed federal legislation intended to help employers. Pagel also drafted template customer contract language to help CMs protect themselves in case of supply chain disruptions.
SBCA also worked with several CMs across the country to gather the policies and documentation they developed to address COVID-19 in the workplace, and made those documents available to all other members so they would not need to develop anything from scratch.
SBCA hosted a podcast series dedicated to sharing what SBCA Executive Committee members were doing to best navigate the effects of the pandemic on their businesses and share what they learned from a variety of sources they followed throughout the early, uncertain days of COVID-19
Finally, SBCA collected maps from other organizations tracking the impact of COVID-19 on the CM's extended supply chain, from the housing industry to the lumber industry. SBCA also surveyed CMs across the country and tracked how they were impacted by the virus over time.