BMC's Component Sales Increase 13.5% in Q1 2020
BMC Stock Holdings (BMC) reported an increase in Q1 2020 sales of 11.6% over the same period a year prior. Sales of $920.9 million were driven by growth from acquisitions (6.0%), core organic growth (5.3%) and an extra selling day (1.7%). BMC experienced sales decreases due to price deflation (0.7%) and the impact of a closed location (0.7%).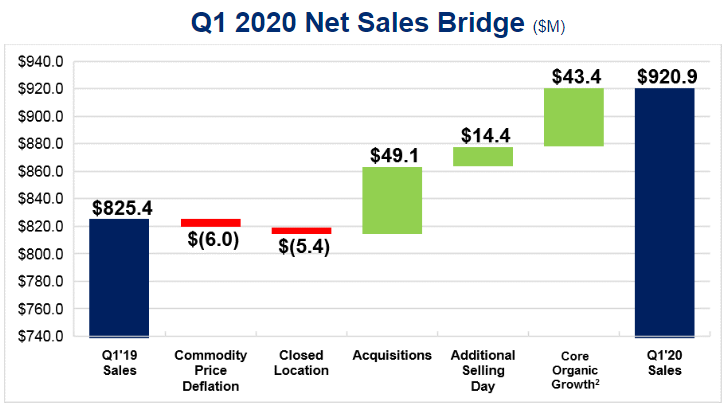 "During this unprecedented time, our thoughts and prayers are with all of those affected by the COVID-19 pandemic and we offer our thanks and appreciation to our nation's healthcare workers and first responders who have been on the front lines of this battle since it started. I'd also like to thank all of our associates who have been working diligently to take care of each other and our customer," said Dave Flitman, President and CEO of BMC.
BMC's gross profit increased 9.7% to $237.1 million with a net income of $22 million or 9.7%. Total liquidity was approximately $501.1 million, which includes $282.8 million in cash with no significant debt maturities until 2024. Selling, general and administrative (SG&A) expenses increased $17.0 million to $186.9 million. Nearly 66% of this increase was related to SG&A expenses in BMC's recently acquired businesses.
Structural component sales of $160,344,000 represent roughly 17.4% of BMC's overall sales and an increase of 13.5% over Q1 2019. BMC's total sales were dominated by single-family home builders (73.3%), with remodeling contractors representing 11.4% and multi-family, commercial and other contractors rounding out market segments with 15.3% of sales.