Truss Fab Embraces Technology to Attract Workers
The last thing Dean Rana, owner of Truss Fab in Glendale, Arizona, wants his employees in the yard to do is pick up lumber over their heads, or spend all day bending over and lifting things up from off the ground, he explains in his SBCA Component Connection podcast.
Before he became president and owner of Truss Fab in Glendale, Arizona, Dean began his career in the industry working out in the lumberyard. "Back in the day it was a lot harder. We had to lift more, we didn't have the equipment that we have today to make it easier on the guys, so I remember stacking piles and piles of lumber, carrying it into the tables, bending over all day. I don't even think we had shade for a while," he recalls.
When Dean toured a brand new truss plant eight years ago and saw the speed and efficiency of their automated linear saw, he decided at that moment that he had to get his hands on his own. In order for Truss Fab to transition towards more automated manufacturing processes, Dean spent six months working with his crew out in the yard to help implement the switch.
Dean agrees that change is never easy. High prices, interrupted production, and a lengthy ROI deter many from transitioning towards more automated means of manufacturing. Nevertheless, "automation has changed the game," he says.
After both watching and experiencing the hard labor that component manufacturing entails, Dean believes it will be difficult to keep the next generations interested in the manufacturing side of the industry if methods continue as they are. He says that if businesses can adapt to newer forms of technology, the CM industry will become more attractive to younger people, and also allow for longer careers in the field.
"This younger generation, there's no way they want to do that. So how do we build houses, with a younger generation that will go out there, work in 125 degrees, and build a house? Well, you have to make it easy for them, and you have to sell them on it," he says.
Despite the risks associated with transitioning to new technology, Dean believes that industry change is coming, and it will come down to who wants to change first.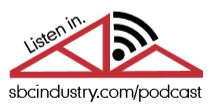 "If I don't reinvent my company in how we do business, maybe we're not in business in a few years. So always embrace change…Adapt or die, because if I don't do it, someone else is going to get paid to do it."
If you'd like to listen to Dean Rana's full podcast, you can access it here or visit Component Connection Podcast to listen to any of SBCA's podcasts.