LP Salutes Women in Construction
Originally published by: LP Building Solutions — March 9, 2020

The following article was produced and published by the source linked to above, who is solely responsible for its content. SBC Magazine is publishing this story to raise awareness of information publicly available online and does not verify the accuracy of the author's claims. As a consequence, SBC cannot vouch for the validity of any facts, claims or opinions made in the article.
While there are nearly 10.7 million workers in construction today, the overall number of women in the industry has hovered between 9 and 10 percent since 1996. Today, the percentage of female construction workers constitute 9.9 percent of the industry in the United States. On this International Women's Day, we take a deeper dive into the subject and how it can impact the future of the industry.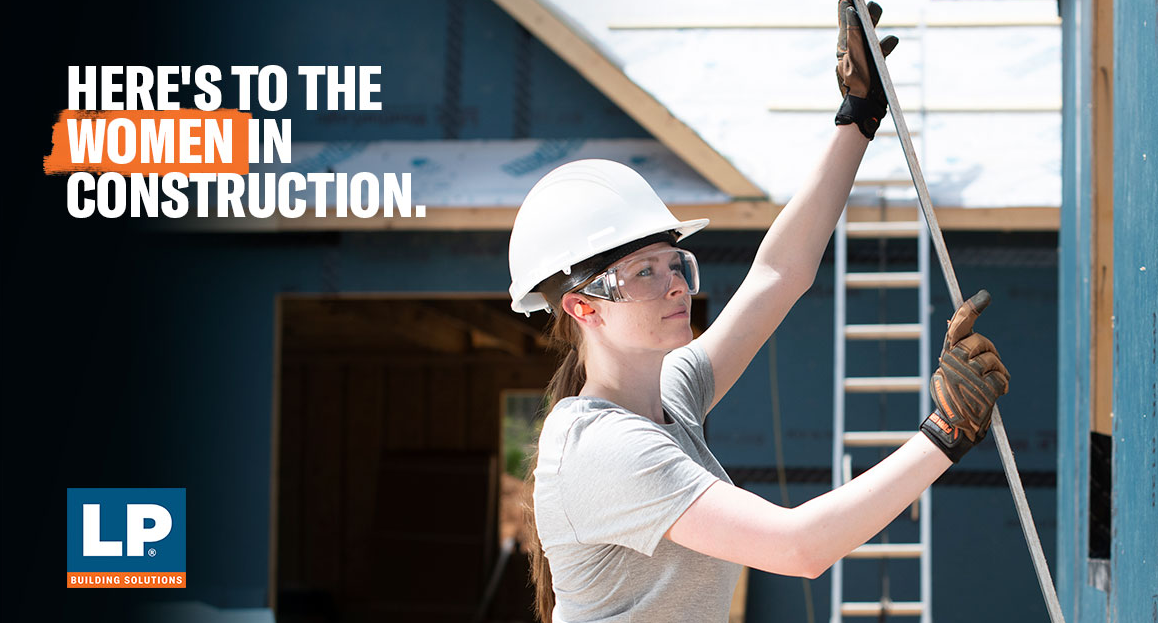 Career Paths for Women in Construction
Although women are underrepresented among all areas of construction, they are making significant progress in becoming executive and construction managers. As of the end of 2018, females in the construction industry were working as:
Professional & Management                                     44%
Sales & Office                                                           28%
Service Occupations                                                 21.1%
Production, Transportation & Material Moving          5.9%
Natural Resources, Construction & Maintenance       1%
Why isn't this higher? According to the National Association of Women in Construction (NAWIC), it's not wages. Women in the U.S. earn on average 81.1 percent of what men make. In construction there is barely a gender pay gap, with women earning on average 99.1 percent of what men make.
Changing Cultural Influences  
A major reason that may be keeping women away is construction roles are traditionally filled by men. "Construction is still considered a male-dominated industry­­­—it's part of our cultural history and it's difficult to cross that line," says Robbie Caudill, senior corporate procurement manager at LP Building Solutions. 
Caudill has been in construction for most of her career. Before joining the corporate office, she was an operations superintendent at the Roaring River Mill in North Carolina where she managed finishing all manufactured product into LP® SmartSide® Trim & Siding. She also worked three years as an operations superintendent leading the green end, which handles incoming logs, fuel wood and chip sales. 
"Women tend to feel they need to be completely knowledgeable of what to do. But we haven't been in construction for years and don't have that cultural history," says Caudill. "It's like NFL coaching. We're seeing one or two women coaches. As women gain success others see it, and it becomes natural to consider women leading teams." 
Bringing More Women into Construction
Caudill attributes much of her success to mentors throughout her career. "I was working in the plant when I saw a successful woman in operations. I had never seen that before, so I asked her if she would mentor me," she says. Her advice? "Don't be afraid to ask someone to mentor you. Most likely, they will be flattered and honored."
Mentoring is an important recruitment tool used by NAWIC to show women career opportunities. NAWIC fosters mentoring programs for "emerging professionals" because they are witnessing more than just young professionals looking for career guidance.
The Future of Women in the Construction Industry
The number of women in the construction industry is expected to skyrocket this year. Specifically, it is estimated that women will make up approximately 25 percent of the industry at the end of 2020. This is due to factors such as more aggressive recruiting efforts as well as increasing women's access to trade school opportunities.
There's hope that more women in the construction industry can help alleviate the tight labor shortage that's been a constant conversation piece over the past several years. However, in the end, it's cultural influences and natural bias that is causing tremendous barriers for attracting more of them.