Framer-Focused Resources for COVID-19 Preparation & Response
As businesses in every industry navigate these unprecedented times, the National Framers Council (NFC) is committed to providing framers with updates and industry specific information. To that end, in addition to general guidance on how to best plan, prepare, and respond to this pandemic published by the CDC and OSHA, members of NFC's Steering Committee recommends the following to framers:
Communicate with business partners, subcontractors, and customers about how to best contain the spread of COVID-19. (NFC created a template letter to assist with this, download Word file here).
Increase sanitization of jobsite items that are used/touched by multiple workers throughout the day (e.g., extension ladders, forklifts, shared tools, etc.). The infographic below outlines how long the virus lasts on different surfaces. This document from one tool manufacturer outlines guidance for cleaning tools to help prevent the spread of COVID-19.
Limit staffing to one crew per project. Restrict employee visits to multiple jobsites.
Limit or eliminate the addition of new employees or subcontractors.
Instruct your safety personnel to monitor the status of handwashing/sanitizing stations to ensure adequate supplies are available for workers to maintain hygiene.
Consider staggering employee start and departure times, along with lunch and break periods, to minimize overcrowding in common areas such as break rooms.
Hold weekly safety and construction meetings in large spaces. Trailers are too confined – a perfect setting for the virus to spread quickly. Meet in the building or outdoors.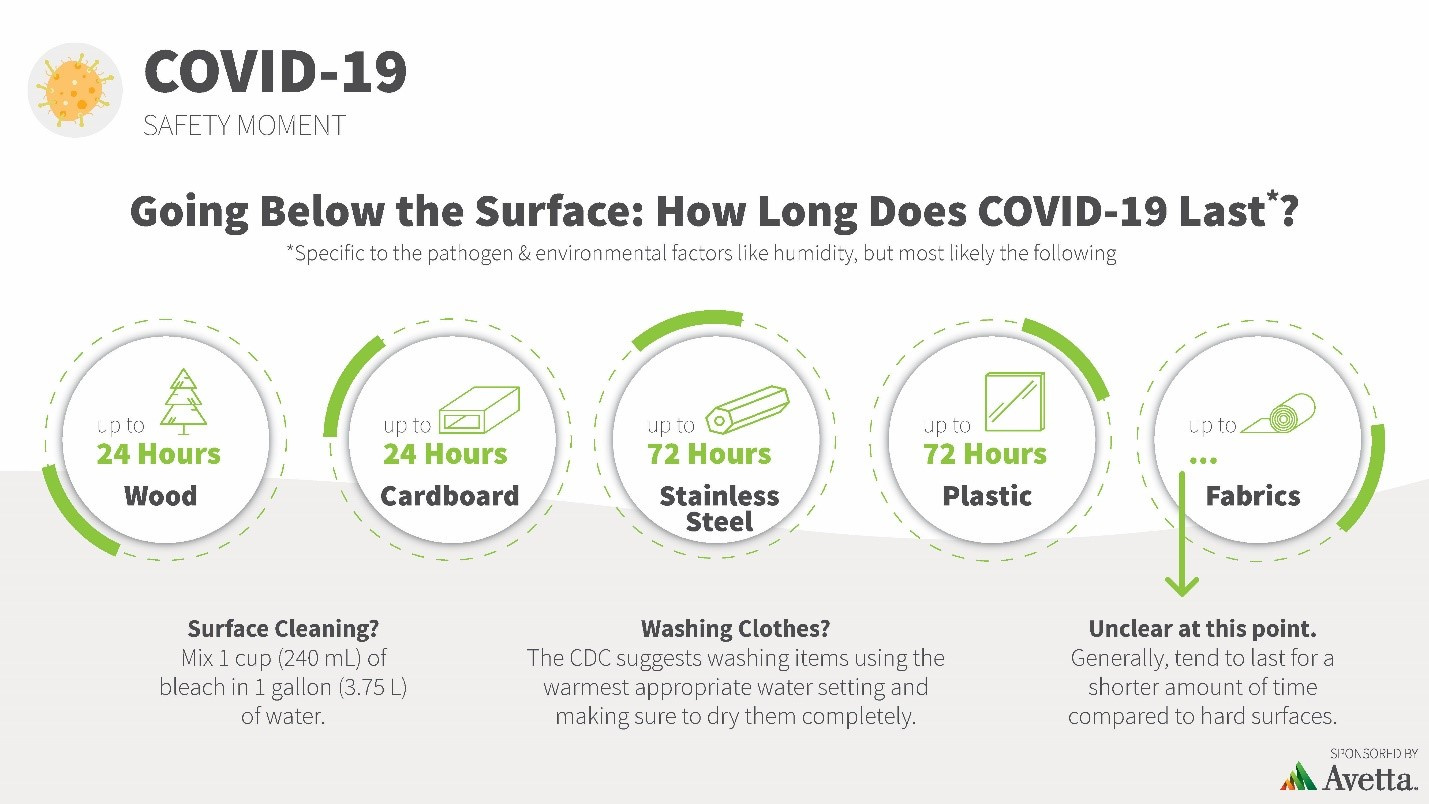 Click here to enlarge. (Source: EHS Today webinar, sponsored by Avetta)
As it is likely that more areas of the country will experience jobsite closures in the coming weeks, NFC has also created a guidance document regarding "Field Preparation for Jobsite Closure." The purpose of this document is "to provide instructions regarding the procedure to close a jobsite when there is no complete demobilization following a stop work order or direction relating to a contagious disease epidemic or pandemic." (Download the Word file here.)
These resources and more information provided by SBCA's Legal Counsel, and SBC Magazine, and other NFC members can be found on NFC's website.
Please share any ideas and best practices you have with NFC staff so that we can update this page with additional information and guidance for all members on this topic.