Don't Navigate COVID-19 Alone, There is Help!
Over the past two weeks, SBCA has developed numerous resources and communication channels to deliver the best, most accurate, and timely information for component manufacturers (CMs) to stay up to date on Coronavirus/COVID-19 public health and business impacts. SBCA is dedicated to promoting and protecting the best interests of CMs and their suppliers. We encourage you to continue reaching out to SBCA with any issues you may be faced with or changes in your market that impact your ability to operate.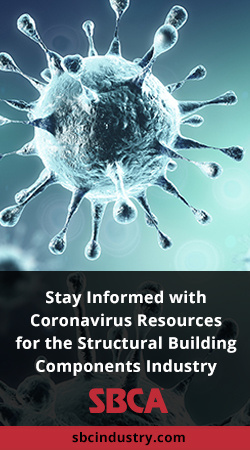 SBCA is interacting with CMs throughout the country and gathering information on how they are addressing the various challenges everyone is facing in these times of pandemic. While initial instinct may be for CMs to attack problems alone, SBCA is in a position to offer the best practices and lessons learned we gather and develop through constant communications with our members. We stand ready to pass this helpful information on to you through our communication channels in Special Industry News, our Coronavirus Resources page that includes our summary of state by state Executive Orders Summary and SBCA Legal Counsel webinars, and our direct communication with CM members and suppliers through phone calls, email, Go To Meetings, text, and Slack. 
The vast majority of great ideas and best practices are developed by individual CM members like you. If you, your staff, or your management team are implementing great ideas that are simplifying or improving tasks large or small, we would love to hear about it. CMs are a great group of professionals that drive an essential industry supporting the greater construction industry and economic growth of our country. SBCA is proud of the effort and work CMs have completed these past couple weeks and stand ready to support CM members and supplier members now, next week, and well into our industry's bright future.