What Is Your Risk of Attending the Framer Summit?
I happened to come upon a quote by Henry Ford that seems apropos, "When everything seems to be going against you, remember that the airplane takes off against the wind, not with it."
This has been our world since March 15. The question is, where do we go from here? The only way is up, and fortunately, NAHB prognosticates that the construction and framing industries stand poised to lead a robust recovery.
On June 10, Robert Dietz of NAHB reported, "The reopening of the economy in most states has led to a rapid reversal for the jobs outlook and the prospects for the beginning of a recovery in the third quarter. Housing data indicate the industry will lead the way in such a rebound.…Historically low interest rates and a more rapid than expected improvement in the labor market should set the stage for a V-shaped recovery for housing, which in turn will provide support for the overall economy as a rebound takes shape in the second half of the year."
So what does this have to do with the Framer Summit? Based on the best current data, the construction industry is going to be back to "normal" quickly.
Yet, a key question that is being asked often remains: What is the risk of attending a tradeshow in person?
The best way to assess risk generally is to gather the best set of facts possible and use that to make sound decisions. Health officials say new cases, which are being heavily publicized, are NOT the best measure of safety or of concern. "The most important data continues to be looking at our death data and our hospitalization data and our rate of positivity, and ... all of the indicators really point to the fact that we are fairly stable and that we in fact continue to slow the spread of COVID-19," said Los Angeles County Health Director Barbara Ferrer in the LA Times on June 22.
It is always wise to put facts into a perspective that can be compared to our normal, everyday experience. What follows are the types of facts that we all should consider when assessing the risk of getting "back to normal." These facts state that your risk of being hospitalized due to COVID-19 is one-half as bad as the typical flu season and one-tenth as bad as everyday injuries.
Status of COVID-19

Hospital Statistics Professionals Use to Assess Risk
Statistic
Covered Dates
Total
% of US Population
Hospitalized due to COVID
January 1-June 24
234,421
0.07%
Hospitalized due to flu
2018-2019
490,561
0.15%
Hospitalized due to flu
2017-2018
810,000
0.24%
Hospitalized due to Injury
2015
2,800,000
0.85%
In ICU due to COVID
January 1-June 24
10,077
0.003%
Positive Tests
January 1-June 24
2,330,367
0.70%
Negative Tests
January 1-June 24
25,734,698
7.8%
Furthermore, if Wisconsin is a reasonable representative sample of the United States, it is clear that the greatest COVID risk lies with those over 70 years of age.
State of Wisconsin Data June 15

Age

COVID-19 Cases

% Cases

Deaths

% Likelihood of Bad Outcome

0 to 20

2343

10%

0

0%

20 to 60

15,555

68%

92

1%

60 to 70

2357

10%

115

5%

70 to 80

1264

6%

184

15%

Over 80

1239

5%

301

24%

Total

22758

100%

692

 
It can reasonably be said that the Framer Summit is the right place at the right time to gather.
As Mike Colcombe of 5-Star Building Solutions stated after last year's Summit in Columbus, "It's really empowering to have your peers in the room to talk about pain points and work to move the industry forward. I can't stress it enough, don't get left behind!"
Will there be risk in attending the Framer Summit this year? Yes. There is always risk, yet the greater risk may be not gaining new knowledge by attending.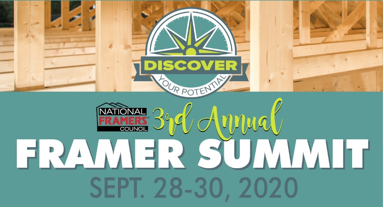 Columbus, the SBCA Executive Committee, NFC Steering Committee, and SBCA/BCMC/NFC staff will all be working hard to make BCMC and the Framer Summit as risk free and "normal" as it can be.
We hope you will join us this September 28-30 in Columbus, Ohio, to "Discover Your Potential." You don't want to miss the fun we will have as we get back together again and continue to move our industry forward to new heights.