Simple Kits Supply Best Practices for Ride-Sharing
Ride-sharing is a reality for many framers. If it wasn't for the option to catch a ride to the jobsite, many in this industry wouldn't get there. For that reason, one of the FrameSAFE Toolbox Talks on COVID-19 Safety Best Practices highlights this topic (available for download).  
While the document does emphasize the need to minimize ride-sharing whenever possible, the training hones in on what should be done if ride-sharing is necessary:
Cover your mouth. Use a mask or cloth face covering while riding.
Disinfect the vehicle before and after each ride.
Practice social distancing as much as possible.
Ensure adequate ventilation in the vehicle.
Ask if worker has a fever, dry cough, or shortness of breath at pick up.
In an effort to further promote these best practices with crews that rely on ride-sharing, one NFC member decided to create a compact supply kit. With a large percentage of its projects in the "New York City suburbs," New Jersey-based Nomad Framing was at the leading edge of the coronavirus outbreak earlier this spring and recognized that their safety efforts on the jobsite could be quickly undone on the ride home.

"Our company president, Pedro Loureiro, had the idea to create kits that include hand sanitizer, disinfectant spray, paper rags, masks, and gloves – everything they need to be as safe as possible – and put it in a plastic bin to keep everything together," says Frank Loureiro, Nomad's safety director. "We even threw in a couple of rolls of toilet paper for good measure."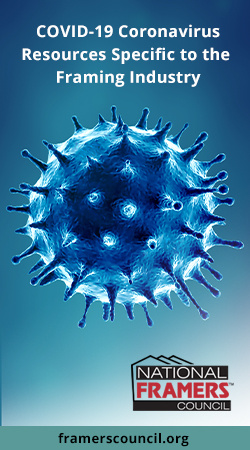 "The driver is responsible for wiping down the vehicle before and after each ride," Frank explains, "and workers are instructed to wear masks, maximize air flow in the vehicle, and – most importantly – stay home if they are sick!"
Frank keeps extra supplies in his trucks and makes sure kits are replenished as needed. He says that the crew leaders are grateful for the kits because they have a hard time getting supplies. "And the workers came around to it," he says of the need to add a few extra safety measures to the daily commute. "When the numbers went up, they started complying."
Also the current president of the National Framers Council, Pedro pointed out in an address to NFC members that framers are fundamentally focused on PPE. They know the best practices for keeping workers safe every day. This foundation has made it possible for members of the framing industry to move forward as safely as possible as an essential industry in difficult times – even on the way to and from the jobsite.
If you have stories to share about your team's experiences during the pandemic and ways you have promoted best practices, please contact staff or share your suggestions and ideas here. More COVID-19 Resources for framers can be found on the NFC website.