Heads Up: New Toolbox Talks Cover Mobile Device Use on Jobsites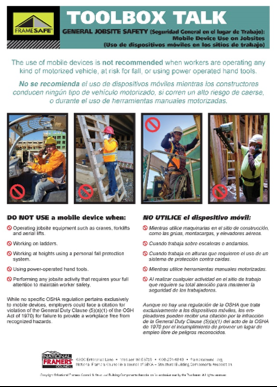 In 2019, Pew Research Center reported that 96 percent of Americans own a cell phone of some kind and 81 percent own smartphones. No one needs to tell you that mobile devices are everywhere and the jobsite is no exception. When you consider the effect cell phone use has on people's awareness of their surroundings and with walking-while-texting injuries on the rise, this common communication device quickly becomes an issue of safety on the jobsite.
"Safe phone use is a big issue on jobsites," says NFC safety committee member David Klatzkin. As safety director at Hull Associates in Grand Prairie, Texas, he is keenly aware of the many work activities happening throughout the day on the jobsite that require a worker's undivided attention. "Phone use is a distraction to all activity that is happening," he warns.
An interesting article on this topic asks, "Are People Walking Around Blindfolded on Your Jobsite?" The article cites a study that indicates, "cell phone use among pedestrians leads to increased cognitive distraction, reduced situation awareness and increases in unsafe behavior." The article goes on to point out that "construction sites are inherently fraught with more danger than streets and sidewalks," making the dangers cited in the study seem very small compared to what workers might encounter on a construction site.
The safety committee added two new Toolbox Talks to NFC's FrameSAFE program this spring to provide subscribers with resources to address these safety concerns with workers. One covers examples of places where mobile device use should be prohibited. The other focuses on safe use of mobile devices on the jobsite with acknowledgment that company policy on this topic prevails.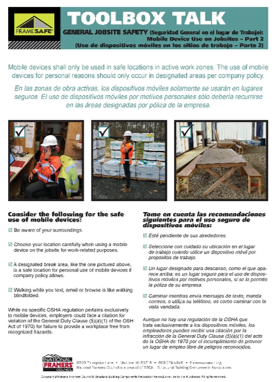 "These Toolbox Talks will create good discussion with our subs and employees on safe use of phones," says David, who brought the topic to the committee to address. "You can't remind people too often about the importance of being aware of their surroundings at all times on the jobsite."
While no specific OSHA regulation pertains exclusively to mobile devices, employers could face a citation under the General Duty Clause for failure to provide a workplace free from recognized hazards.
FrameSAFE subscribers can download their Toolbox Talks on Mobile Device Use here. If you are interested in learning more about NFC's FrameSAFE program or becoming an NFC member, visit the website or contact staff with questions.