Fire at Phoenix Apartment Project: Cause Yet to be Known
Originally published by: azfamily.com — June 7, 2020

The following article was produced and published by the source linked to above, who is solely responsible for its content. SBC Magazine is publishing this story to raise awareness of information publicly available online and does not verify the accuracy of the author's claims. As a consequence, SBC cannot vouch for the validity of any facts, claims or opinions made in the article.
Editor's Note: The NFC's web page on Construction Fires includes a wealth of resources on the occurrence and extent of fires in buildings under construction. If you have questions, please contact NFC staff.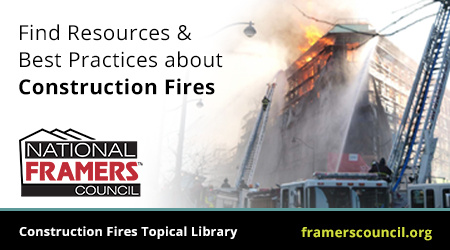 Smoke continued to hang in the air Monday morning as firefighters mopped up hot spots after a huge fire destroyed a four-story apartment complex under construction in downtown Phoenix.
Smoke from the massive fire at the intersection of Seventh Avenue and Grant Street, could be seen for miles Sunday night. Arizona's Family news anchor Heather Moore said it was visible from Fountain Hills. "The smoke was overbearing. You couldn't see the sky and the fires were I don't know, five, six, seven stories high, maybe even higher. I have never seen anything of that magnitude here in Phoenix," said Koko Hunter. 
Watch the video on azfamily.com. Flames and smoke could be seen for miles after a huge fire in Phoenix Sunday night. 
Phoenix fire officials say multiple people called 911 around 9:30 a.m. to report seeing the flames.
A fire captain on the scene told our crews Sunday night that the intense fire took up a whole city block. It took some 200 firefighters to get the fire under control. "We hit the corner and we just feel instant heat, just hot and then multiple explosions. We saw sparks going up. It was crazy," said Chalif Chambers. 
The apartment complexcomplex reportedly was about 40% complete. The wood framing was finished but still exposed. "It is the perfect really recipe for a large fire. You've got wood that wants to burn, that is exposed," said Captain Rob McDade with Phoenix Fire Department.
The flames expanded east to toward commercial properties. Crews were assigned to protect those surrounding structures. Phoenix Fire Department said that burning construction equipment such as trucks, tractors, forklifts and barrels caused several explosions.
Fire crews also had to deal with downed power lines, McDade said.
Initially, there were reports that the fire started at an APS substation. However, Lily Quezada, an APS spokeswoman, said that is not the case. There is an APS substation northwest of the building, but it isn't close enough for them to be concerned. Power was out to nearly 1,000 APS customers in the area, but it has since been restored.
There were early reports from fire personnel on the scene that a man was arrested in connection with a shooting near the fire. The Phoenix Police Department said Monday morning that there was no shooting.
"There was an argument between some subjects who were armed and there were arrests made related to that, but there was no shooting or shots fired," Sgt. Ann Justus of the Phoenix Police Department said.
It's not clear if that argument and the fire are connected.
While the construction site was leveled, no injuries were reported. Fire investigators are trying to determine how the fire started. A task force is collecting evidence from the scene, and is also seeking closed-circuit video from neighboring buildings. McDade said fire crews would continue to monitor the fire area through Monday night to make sure all hotspots are completely extinguished.