Charts: COVID-19 Not Impacting Home Purchase Plans
Originally published by: NAHB — July 21, 2020

The following article was produced and published by the source linked to above, who is solely responsible for its content. SBC Magazine is publishing this story to raise awareness of information publicly available online and does not verify the accuracy of the author's claims. As a consequence, SBC cannot vouch for the validity of any facts, claims or opinions made in the article.
According to NAHB's latest Housing Trends Report, the share of Americans who are considering the purchase of a home in the next 12 months was 11% in the second quarter of 2020, essentially flat when compared to the same quarter in 2019 (12%). In light of the COVID-19 crisis, this finding indicates that the overall propensity of Americans to want to buy a home has not been impacted by the pandemic. Similarly, the share of these prospective buyers who are first-time buyers is about the same in the second quarter of 2020 (59%) as it was a year earlier (58%).
The timing of the data collection for this report (June 16-28) is important, as results need to be interpreted in the larger context of the US economy and the trajectory of new case counts at the time. In June, the labor market showed signs of recovery, gaining 4.8 million jobs and a lower unemployment rate. The 30-year fixed mortgage rate continued to fall, reaching 3.13% by the last week of the month. The number of COVID cases nationally were stable through the first half of the month, only beginning their ascent around June 15. For these reasons, we assess that responses in this quarter's report reflect a period when workers were returning to their jobs, mortgage rates looked increasingly attractive, and the pace of new cases had only recently started to regain speed.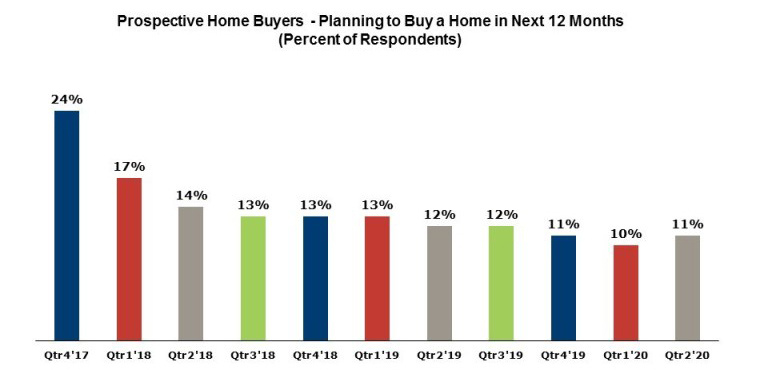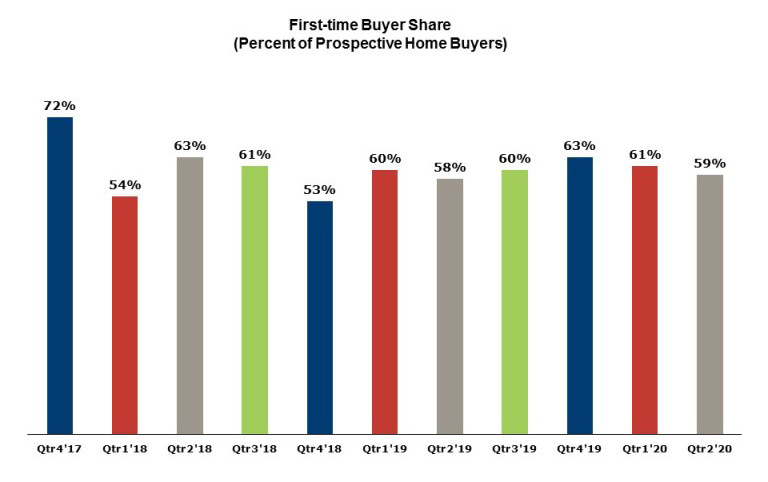 In terms of the type of home these prospective home buyers are interested in, 40% are looking to buy an existing home and 24% a newly-built home. The remaining 37% would buy either a new or existing home.