What's in Store for NFC in 2020?
Originally published by the following source: SBC Magazine — January 16, 2020
by Pedro Loureiro, 2020 NFC President (Nomad Framing LLC, Cranbury, NJ)
I am humbled and honored to have been asked to serve as president of the National Framers Council. The gentlemen that served before me have left me with some big shoes to fill, so first and foremost I'd like to thank George Hull (Hull Associates), Kenny Shifflett (Ace Carpentry), and Scott Stevens (ModuTech) for their hard work and efforts making the NFC what it is today. 
Pedro Loureiro, 2020 NFC President (Nomad Framing LLC, Cranbury, NJ)
I have been involved with the NFC since September of 2014, and when Scott asked me to step into a leadership role on the Steering Committee a couple of years ago, I was hesitant but quickly accepted the challenge. Deep down I felt that this is a good group of people trying to do the right thing for our industry, and that is great company to keep. As president I promise to work hard to provide value to our members by helping them move the industry in the right direction as well as protect their interests through developing and promoting the use of tools such as FrameSAFE. I am committed to the NFC continuing to provide a place where framers can share best practices and experiences in an effort to grow their own businesses.
In its six short years, the NFC has achieved some monumental milestones that must be applauded:
As we head into 2020, our goals are to double down on the momentum we have gained and provide our members more tangible tools and resources from our committees.
On behalf of the National Framers Council, I would like to wish you all a very happy, productive, and safe new year!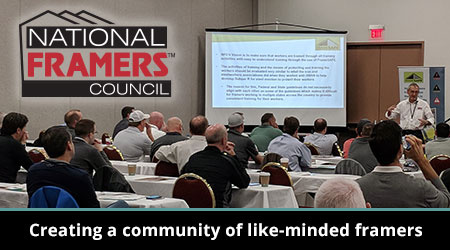 Watch for future articles discussing the work of NFC Committees. Visit framerscouncil.org/committees to for more details and to get involved, or email staff at info@framerscouncil.org.