Builders Share Pain Points Converting Sticks to Components
Originally published by the following source: SBC Magazine — January 3, 2020
by Kirk Grundahl. Sean Shields & Laura Soderlund contributed to this article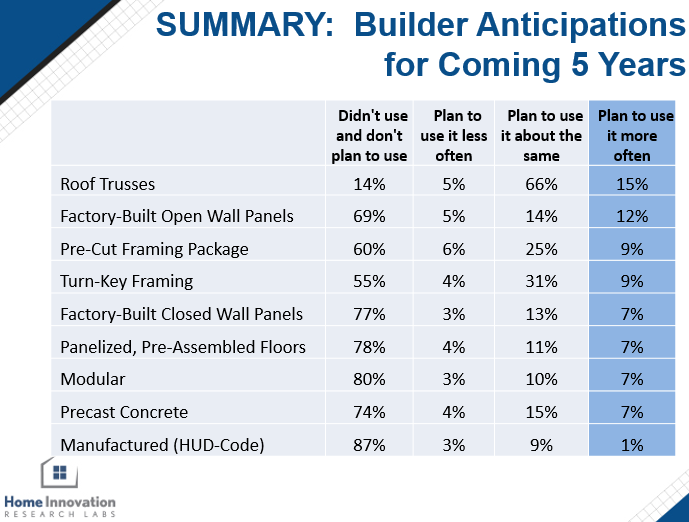 Table 1. Click to enlarge.
Ed Hudson, director of market research at the Home Innovation Research Labs (HIRL) recently reached out to SBCA about the SBCA point of view regarding engineered industrial framing (aka offsite framing). This led to a discussion about HIRL's research, which Ed said we could share broadly. Their research raises some interesting observations that CMs can capitalize on to grow market share.
86% of Builders Use Roof Trusses, Just Not Always
It is interesting to note that 86 percent of builders use roof trusses (100 percent minus the 14 percent who "didn't use and don't plan to use" trusses in Table 1). Contrast this with roof truss penetration at 63.8% of roof area (Table 2). This implies that not all roofs, from a Builder point of view, are ideal for truss use.
When 86 percent of builders "plan to use" roof trusses, it's fair to say trusses are approaching full market penetration (generally regarded as approaching monopoly conditions with little to no competition).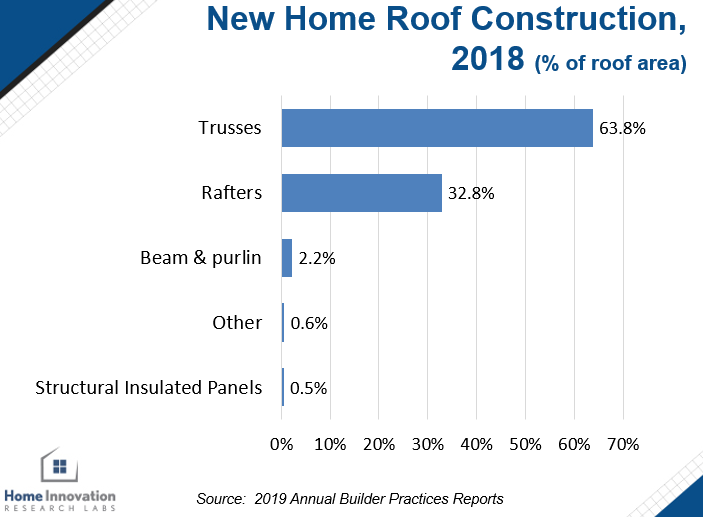 Table 2. Click to enlarge.
Opportunities Abound for Other Components
At the same time, 40 percent of builders are using pre-cut framing packages, 31 percent are using wall panels, and 22 percent are using panelized floors/floor cassettes (Table 1). There is clearly room for "engineered industrial framing" market growth with these product lines, given that a minimum of seven percent of builders plan to use more of these products in the future. Not surprisingly large builders are inclined to use more of these types of products, around 14 percent more n the next five years (Table 3). That suggests good times are ahead for CMs if they seize these opportunities.
The HIRL survey also provides insight into why builders do not currently use pre-cut framing packages, wall panels and panelized floors/floor cassettes. The pain points described in Builder's words are summarized following:
Builders Identify Framing Conversion Pain Points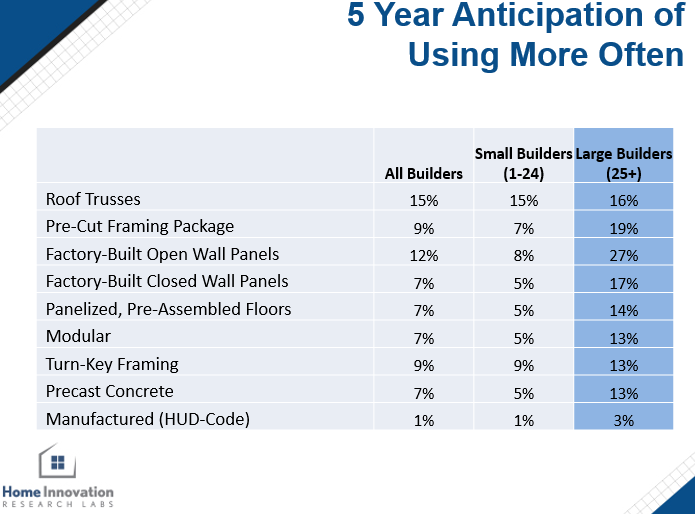 Table 3. Click to enlarge.
Component Manufacturer Market Development & Sales Activity
"No one ever has called on me to help me get started using other framing methods. My cell is 210.834.****"
It would cut labor cost. I would like to know more about them (no supplier calls on me)."
"Having a local provider with service, support, and quality control is very important."
Education and Training on Mutual Value is Market Development
"(I) do not feel comfortable with the process."
"Change is hard—training and customer education, product knowledge…" "Finding time to educate myself and staff"
"Lack of information regarding costs and finding experienced installers"
"Customers are always changing their minds. Offsite building technologies do not make allowances for jobsite changes that need to happen."
"We prefer to build onsite to deal with any architecture design flaws as they come up…"
"…would be at the mercy of the manufacturer & their issues"
"We prefer our houses be stick framed and done on the job…  The framers prefer this…"
"The system are only as good as the people putting them together on site. Most of them can't be retrained.  The quality of sub's is horrendous and not very teachable…"
"Local trade reluctance"  "framer know-how"
"learning how to adjust from stick building"  "learning curve"
"Supplier who can deliver and laborers willing to take on the work"
"Trust in the accuracy and completeness of the supplier"
Logistics – Right Product, Right Time, Right Place
"Lead time is biggest obstacle and supply"
"Availability and logistics", "site access"
 "The ability of providers to have enough capacity to serve us"
"Assuring they are accurate"
 "Finding reliable manufacturers that can keep up with demand and time frame."
Quality is a Value Proposition
"Quality of known pre-fabricated products is not compatible with our market."
"We consider it very important to have direct control of the labor to assure of getting the quality we require"
"QUALITY is of great importance"
Product Cost/Perceived Value
"It's about the cost of the total package installed.  Today I can stick build everything yet for less than any components other than trusses."
"Still a little old fashioned but would like to explore pre fab technology where possible. "
"I would say the largest obstacle is cost. Cost, cost, and cost. The minimal time saved just does not outweigh the added cost."
"The cost of using those techniques have always been too expensive so until costs come down or labor is completely unavailable, we will not be using it."
"We look at the prefabrication process purely from a financial standpoint.  As the availability of construction labor goes down the cost of that labor will go up.  When the cost of factory built components are less than site built (there) will be change."
Hard Sale to Make
 "I used to be a sales rep for modular and panelized companies and I can build a better product stick built on site"
And last but not least -- "We do not use pre-fabricated systems or components and never will, even if there is a pinch on labor."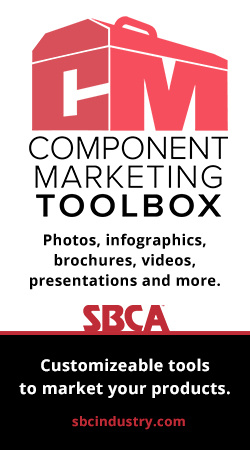 Game Plan for Success
All of this direct feedback suggests CMs should:
Interact often with their builder/GC and/or framer/installer customers to learn pain points and find ways to make components valuable.
Educate and develop strong relationships with their customers and market gatekeepers such as specifiers, building officials, and city officials to become THE well-known "go to" engineered framing solutions company in the market.
It seems the best outcome is when customers believe you are a key team member and specifiers, building officials, builders, GCs and framers all come to you because you have both the technical and business knowledge to provide reliable solutions to their problems. In other words, you become the "engineered industrial framing" solutions whisperer.