5 Ways Digital QC Benefits Your QC Process
Originally published by the following source: SBC Magazine — January 3, 2020
by Evan Protexter. Sean Shields & Kirk Grundahl contributed to this article.
There is no question that SBCA's Digital QC will have a positive effect on the market's view of truss quality and it being a point of emphasis in building performance confidence. How though, does this program directly benefit your plant? Here are the top five ways (in no particular order) Digital QC will benefit component manufacturers.
#1: Digital QC is less expensive
From the moment your inspector decides that they are going to perform a truss inspection to when they finish logging data or filing away data, an inspector today will typically spend 30-40 minutes working on this one task. This time ads up, especially when considering the fact that it is done multiple times per week. There are some time-savings that can be realized by doing multiple lines in one period, but the fact remains that the standard SBCA in-plant QC process is time consuming. Digital QC inspections are performed and stored in a few minutes and there is no longer a need for inspectors to run back and forth to a computer to deal with QC inspection information. This saving of both time and money is a key Digital QC value proposition. As most know, there is great decision-making value to be had in gathering good data. It is even better when good data is easier to gather.
#2: Digital QC is easier to implement
Digital QC allows in-plant management and in-plant inspectors to be trained in performing inspections in a matter of minutes. Once a good understanding of what the program inputs and controls are, users are further trained through the ongoing use of the program itself. The goal of Digital QC developers is to use the program by doing inspections and getting user feedback on how to make the interface more intuitive to use. Furthermore, the Digital QC program shows why a joint fails, and does not rely on every inspector to have an in-depth understanding of ANSI/TPI 1 Chapter 3 to know how industry QC checks are performed.
#3: More inspectors can be trained
A bonus to QC being easier to implement is that more inspectors can be trained to use the software with a mobile device. Instead of one person having knowledge on how to do inspections, inspectors can be easily trained so it is not the responsibility of just one person to perform inspections for a whole company. Having multiple inspectors means less dependency on a given individual's schedule, there is greater flexibility in scheduling when inspections occur and who conducts them. This flexibility also means more inspections can be conducted, increasing the amount of decision-making data that is collected.
#4: Increased protection through proof of quality
Trusses inspected with Digital QC show detailed information about the truss and can be electronically stored for easy retrieval if the data ever needs to be accessed. Data collected will be more consistent, which allows plants to easily show their in-plant QC program is successful at controlling finished product quality. Increased inspection frequency also helps prove plant quality by inspecting a greater percentage of total trusses manufactured.
#5: Training needs can be pinpointed
Is a given crew challenged with plate rotation? What are the common inspection themes found? Which machine(s) consistently has QC issues? Which line always has the same embedment problems? Which day of the week is QC worst and/or best? These kinds of questions, not easily answerable before Digital QC, have the potential to greatly reduce the number of repairs and callbacks due to quality control issues.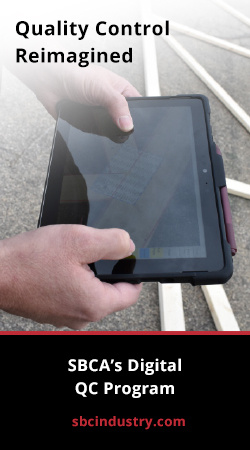 By taking more inspections and tying the inspection results to crews, lines and machinery, managers can quickly see where issues are emerging and begin a continuous improvement effort based specifics. If a single crew has a greater number of joint placement issues due to rotation or placement, it is far easier to get everyone together, assess why and talk about proactive solutions. Targeted problem solving and training is hard to put a price tag on. This will also result in less time and money spent on repairs.
These five benefits are the tip of the iceberg regarding the value of Digital QC. As this program continues to evolve, we look forward to gaining perspectives from all SBCA members and continually improving the program.
For more information on Digital QC, please look at the following sources: