Scholarships Go to CMs Passionate About Industry Since High School
"My love for this industry developed early on and I am excited to see where it goes," Jazmine Murillo stated in her application for a 2020 SBCA Emerging Leaders Scholarship.
Jazmine is a design tech level 2 at Builders FirstSource in North Las Vegas, Nevada, and one of two scholarship recipients recently announced by SBCA's Board of Directors based on the recommendation of its Emerging Leaders Committee.
Starting out at Sun State Components in 2007, Jazmine says she began her career right out of high school by helping designers and working in the cutting department. Her ability to learn quickly and eagerness to take on new challenges caught her supervisors' attention early on, so when the recession hit she was asked to help out in other departments as well. "I have worked in the admin department, cutting, design, quality control, production, and took on many other tasks. I also spearheaded two major conversions of our software," says Jazmine.
The second scholarship recipient for 2020 is Zach Shepherd, operations manager at Engineered Building Design (EBD) in Washington, Iowa. He also entered the industry as a teenager, building trusses for EBD during the summer of 1997. Zach says he had intended to go to college to become an architect but "thoroughly enjoyed building trusses" and worked his way into an office job by the time he graduated from high school.
"I have been involved in every area of our industry from production to design to sales to helping run our company," he says. Zach's educational breakout session at BCMC 2019 focused on how he uses his wealth of experiences to successfully train designers.
The scholarship was designed for SBCA members who are young in the industry and have shown potential leadership in both their individual companies and in the association to help defray the cost of attending Open Quarterly Meetings (OQM). Jazmine and Zach were chosen to receive scholarships based on the strength of their written applications, phone interviews, and support of their supervisors, which demonstrated their potential as future members of SBCA's Emerging Leaders Committee.
"Both Jazmine and Zach stood out right away during the interview process," says Jason Walsh, vice president of sales for California TrusFrame LLC and a member of the Emerging Leaders scholarship selection subcommittee for the past two years. "They both spoke about understanding the industry better as a whole, not just their own sector. I personally look forward to engaging with both of them and to what they are going to bring to the table!"
The scholarship will cover expenses associated with attending two OQMs in 2020, up to a maximum of $3000. Both recipients plan to attend the first OQM of the year in Miami, February 26-28.
"I love thinking outside the box and coming up with new ways to accomplish tasks," says Zach. " I am looking forward to getting involved with SBCA to be a part of helping CMs make continual improvement instead of sitting on the sidelines while others do all the work."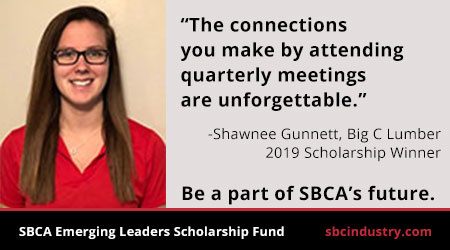 "I am really looking forward to not only attending my first OQM in Miami, but also getting more involved with SBCA," says Jazmine. "One of the most exciting parts of this whole experience is that I will get to meet a lot of people with similar interests in the industry from all over the country. I am eager to share my experiences and to learn as much as I can from you all!"
To find out more about SBCA's Emerging Leaders Committee, hear about the value the scholarship has had for past recipients, or learn how to apply for a scholarship for 2021, visit the SBCA website. If you are interested in making a donation to the scholarship fund, please contact staff.