Prison Time Ordered for Failure to Prevent a Worker's Death in FL
Originally published by: EHS Today — February 11, 2020

The following article was produced and published by the source linked to above, who is solely responsible for its content. SBC Magazine is publishing this story to raise awareness of information publicly available online and does not verify the accuracy of the author's claims. As a consequence, SBC cannot vouch for the validity of any facts, claims or opinions made in the article.
Editor's Note: Before someone on your jobsite becomes an unfortunate statistic, take a few minutes to consider FrameSAFE. This comprehensive, bilingual safety program developed by the National Framers Council is based on OSHA 1926 and includes a safety manual template, site-specific fall protection plan template, Toolbox Talks, safety posters and other training materials.
A former owner of a dissolved Florida construction company is now facing prison time for failing to prevent a worker's death.
On Sept. 26, 2015, Selvin Velasquez-Nunez, an employee of SB Framing Services Inc., was completing a residential roofing project in Naples, Fla.
Getty Images
SB Framing was a subcontractor hired by A&C Construction and USI Contractors to install sheathing and framing for the new residential project at Marcella Isles on Monticello Boulevard.
Velasquez was not wearing fall protection. At some point around 8 a.m., the 32-year-old worker lost his balance and fell 19.5 ft. to the ground. According to Naples Daily News, his coworker Wilmer Amayla did not witness the fall because his back was turned.
Emergency services transported him to nearby Lee Memorial Hospital where he later died.
In a statement to the media, Condell Eastmond, director OSHA's Fort Lauderdale-area office, said the tragedy was entirely preventable and revealed, "SB Framing Services was warned previously by a third-party, as recent as the day before this incident, that the workers on the roof had no fall protection and needed to be secured safely. The company's owner ignored the warning and took no action to protect its workers."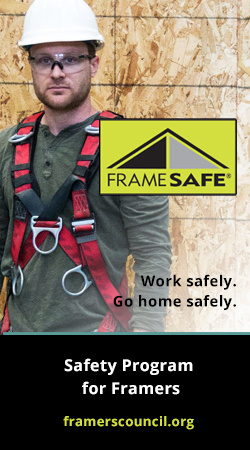 The agency opened an investigation and originally issued one willful citation to SB Framing for exposing employees to falls without fall protection. The company also was cited for failure to implement a workplace safety training program, resulting in total proposed penalties of $53,900.
Following this tragic incident, OSHA and the U.S. District Court for the Middle District of Florida, Fort Myers Division now has sentenced the company's owner, Stalin Rene Barahona, to 30 days in prison.
Barahona did not contest the charges, pleading guilty to one count of willfully violating fall protection standards. He will begin serving his sentence on Feb. 26, 2020.
Kurt Petermeyer, OSHA's Atlanta regional administrator, commented, "This enforcement action demonstrates that OSHA will utilize every resource available to ensure that safety and health standards are followed to protect employees from potential risk."
Velasquez-Nunez, a foreign-born worker who had immigrated from Honduras, is survived by his two sons who were 8 months old and 3 years old at the time of the incident.