Chart: 85% of Builders Expect Labor Problems to Persist in 2020
Originally published by: NAHB — February 7, 2020

The following article was produced and published by the source linked to above, who is solely responsible for its content. SBC Magazine is publishing this story to raise awareness of information publicly available online and does not verify the accuracy of the author's claims. As a consequence, SBC cannot vouch for the validity of any facts, claims or opinions made in the article.
Cost and availability of labor topped the list of problems builders faced in 2019, and is expected to return to the number one spot in 2020, according to special questions on the December survey for the NAHB/Wells Fargo Housing Market Index. The survey results showed that cost and availability of labor were a significant issue for 87% of builders last year.  In 2020, however, a slightly smaller share – 85% of the builders – expect them to continue being a problem. The second most widespread problem in 2019 was building materials cited by 66% of builders. Unlike cost and availability of labor, the share of builders expecting building materials to be a problem this year is the same as share reporting it a problem last year.
Editor's Note: The cost and availability of labor is an issue directly linked to the use of structural building components. Roof trusses, wall panels and floor trusses all offer builders different solutions to the labor shortage because they require less labor to accomplish the same framing task (see SBCA's Framing the American Dream study to learn more). The greater the shortage (and the more prolonged the shortage lasts), the more each builder is open to solutions that reduce their reliance on labor. To get a sense for the evolution of builders' struggles dealing with a shortage of jobsite labor it's important to look at the increase in the share of builders who have reported it as a significant problem.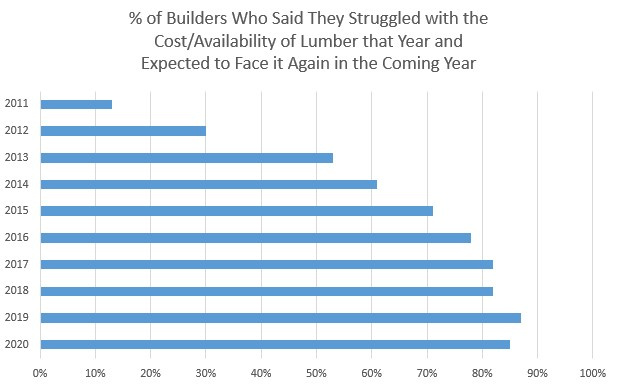 As the chart above illustrates, in 2011, cost and availability of labor was reported as a significant problem by only 13% of builders. The share increased to 30% in 2012, 53% in 2013, 61% in 2014, 71% in 2015, 78% in 2016, 82% in both 2017 and 2018, before peaking at 87% in 2019. This prolonged and widespread labor shortage is fueling a national push for off-site framing solutions, creating significant marketing opportunities for CMs.