PA Framer Shares His Journey During COVID-19 Shutdown
Originally published by: Bruce Jones — April 30, 2020

The following article was produced and published by the source linked to above, who is solely responsible for its content. SBC Magazine is publishing this story to raise awareness of information publicly available online and does not verify the accuracy of the author's claims. As a consequence, SBC cannot vouch for the validity of any facts, claims or opinions made in the article.
The Situation:
Bruce L. Jones Contractor has been in the construction industry for 46 years. During that time, we've dealt with several disruptions in our business. Two of the bigger ones include the late seventies when home interest rates were at 21% and, more recently, the 2008 housing market crash. None comes close to the two current Black Swan events we're dealing with: the Saudi/Russian oil war and the COVID-19 pandemic. Each has affected business adversely, in very different ways. 
On March 15th, our Governor in Pennsylvania, Tom Wolf, closed non-life sustaining businesses, which included the manufacture of wall panels and construction. That was not in line with CISA guidelines that other states were following. Most of our construction projects are located in the states of Maryland, Virginia and the District of Columbia, which followed CISA guidelines and remained open for business. Suddenly, we found ourselves in a jam, as our General Contractors were demanding we continue work, but our geographic location was potentially preventing us from doing so. 
Building Site
The Importance of a Well-Trained Team:
I sold my business in 2017, but have remained an active member of the management team. The plan has been for me to transition to an advisory role as we develop managers to effectively lead the organization into the future. As planned, effective March 1st, Jason Valis was officially promoted from his Project Executive role to General Manager. After just 15 days in his new role, the whole world was turned upside down. As an organization, we spend a lot of time planning and executing strategy. That includes organizational development and recruiting talent into the company. All those efforts paid off as Jason and his team showed great leadership in keeping us operating while gaining our exemption from the state to keep operating.
The coordination included moving completed panels to the construction sites on short notice, ensuring the general contractors we were able to meet our commitments and guaranteeing our safety promise to every employee and sub-contractor under our supervision that would be working during the pandemic.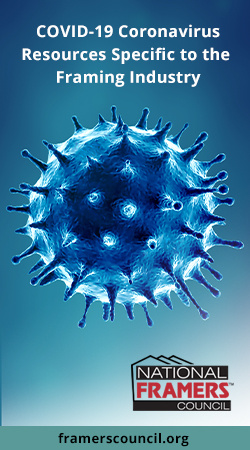 We were able to keep 8 job sites open and through the first 6 weeks of the state business closure, we were able to frame 300,000 feet of buildings, build 7 miles of panels and continue pre-construction activities. I spent four of those weeks finishing a promised month-long vacation in Florida with my wife. I'm proud of the job my entire team did in my absence. It's a testament to the importance of employee development and the quality of people we have in the organization.
The Importance of Associations for Resources and Relationships:
Historically, we been very active in the National Framers Council (NFC). During this crisis, they have provided up-to-date information on changes in work procedures in our plant and at the construction sites. The relationships we've built over time with the members of NFC have been critical to helping us navigate the waters during the crisis. Few organizations survive on their own strength, but the connections we make can help us through times of need.
The Hikel family, owners of Shelter Systems, allowed us to temporarily stage 20 tractor trailer loads of wall panels and lumber, as we worked towards resolution of the PA closure of businesses. Our team was able to stage the product to the temporary site in 2 days before transitioning on to the construction site. The entire transition was complete in less than 7 days!
The Grossman family, owners of Building Solutions, are helping build wall panels, allowing us to keep up with demand while our man-power is short-handed. I cannot stress enough how valuable these NFC connections have been in supporting our business needs during this time. It affirms our need for one another and makes us stronger working together.
Temporary Staging of Material Off-Site
In closing, as the other disruptions have, this event will pass too. Remember that cash is king during these times and don't be afraid to trust your team and utilize your professional relationships to navigate the stormy waters. When we come out the other side, you will become a better leader with a stronger company built to last.
Stay safe and may God bless you,
Bruce Jones
Proud Member and Advisor
Bruce L. Jones Contractor Inc.