State Law Regarding Process of Building Official Approval
Originally published by the following source: SBC Magazine — September 18, 2019
by SBCA Professional Engineers with contributions from SBCA Staff
The article, "How Can a Building Official Deny Approval of an RDP's Work?," asks an important due process of law question.
Fortunately, two states, Ohio and Minnesota, have statutes and commentary that address this very question. The Ohio Board of Building Standards has provided counsel and precedent with respect to the building official approval process in their white paper entitled "OHIO'S 'SEAL LAW' 19 YEARS LATER." The paper specifically states: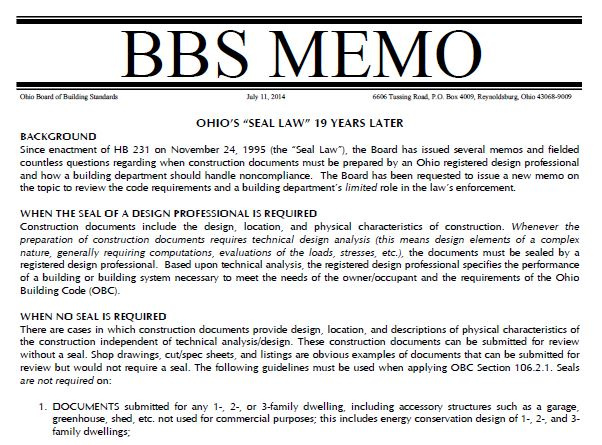 Click to enlarge. Ohio's "Seal Law" 19 years later.
"Building officials do not have the right to refuse to accept non-residential construction documents that do not bear the seal of a registered design professional. If documents are required to have a seal of a registered design professional and they do not have one, they still must be accepted for review…. Failure to approve or deny construction documents and issue a Certificate of Plans Approval is a denial of a "license."…. To be in compliance with Ohio law, construction documents required to be submitted for an approval must be accepted for review by the building department. A thorough and complete plan examination must then be performed. If the Building Official does not issue an approval of the construction documents, this denial and the reasons for it shall be indicated in an adjudication order. This process must be used for any item of noncompliance causing the denial of an approval, including the requirement for an Ohio design professional's seal."
2015 Minnesota Building Code Administration
Minnesota law provides great counsel with respect to the required interaction between a registered design professional (RDP) and a building official.
1300.0070 DEFINITIONS -- Subp. 19. Performance-based design.
An engineering approach to design elements of a building based on agreed upon performance goals and objectives, engineering analysis, and quantitative assessment of alternatives against the design goals and objectives, using accepted engineering tools, methodologies, and performance criteria
1300.0130  CONSTRUCTION DOCUMENTS -- Subpart 1. Submittal documents. 
The building official may require plans or other data be prepared according to the rules of the Board of Architecture, Engineering, Land Surveying, Landscape Architecture, Geoscience and Interior Design, Chapter 1800, and Minnesota Statutes, Sections 326.02 to 326.15, and other state laws relating to plan and specification preparation by occupational licenses. If special conditions exist, the building official may require additional construction documents to be prepared by a licensed design professional.
1300.0130 CONSTRUCTION DOCUMENTS -- Subp. 6. Approval of construction documents.
Any code deficiencies identified by the building official during the plan review process for construction documents that are prepared by a design professional who is licensed or certified under Minnesota Statutes, Sections 326.02 to 326.15, must be itemized by the building official through a comprehensive plan review letter only.
1300.0130 CONSTRUCTION DOCUMENTS -- Subp. 9. Design professional in responsible charge.
The building official may require the owner to engage and designate on the building permit application a licensed design professional who shall act as the licensed design professional in responsible charge…….
The licensed design professional in responsible charge shall be responsible for reviewing and coordinating submittal documents prepared by others, including phased and deferred submittal items, for compatibility with the design of the building…….
Work regulated by the code shall be installed according to the reviewed construction documents, and any changes made during construction that are not in compliance with the approved construction documents shall be resubmitted for approval as an amended set of construction documents.
1300.0090 DEPARTMENT OF BUILDING SAFETY -- Subp. 13. Alternative materials, design, and methods of construction and equipment. 
The code is not intended to prevent the installation of any material or to prohibit any design or method of construction not specifically prescribed by the code, provided that any alternative has been approved. An alternative material, design, or method of construction shall be approved where the building official finds that the proposed design is satisfactory and complies with the intent of the code, and that the material, method, or work offered is, for the purpose intended, at least the equivalent of that prescribed in the code in quality, strength, effectiveness, fire resistance, durability, and safety…….
It is clear from the foregoing that RDP approval also includes building official peer review of all the submitted construction documents, research reports, and/or specialty engineered designs. If a code compliance error is made during this peer review, that error then needs to be brought to the attention of the RDP, along with the code section violated, so that the RDP can cure the error.  
SBCA members have built an industry based on taking responsibility for their scope of work. This is best demonstrated by the continuing use of sealed truss design drawings. When an engineer's seal is on a document, any company using that document has visible assurance that an engineer takes responsibility for the work to which the seal is attached. Furthermore, the engineer will react professionally when working with building officials to provide structures that are safe and durable.
For additional information and commentary on the building code, please read the following articles: