QC Inspections Will Become Quicker, More Impactful
Originally published by the following source: SBC Magazine — September 9, 2019
by Evan Protexter, EIT with contributions from SBCA Staff
A recent SBC Magazine article walked readers through the Digital QC development timeline. This look into the past shows just how much effort it takes to create something totally original. With that background, let's look at some of the progress that has been made since that article was written.
One major update is the improved plate sizing and corner detection feature. Using the tablet to perform inspections, the digital QC software has the ability to automatically size the plate and select the plate corners in fractions of a second.
The last step is to position the photo so that members line up with the red-lined overlay. Once done tooth count analysis is automatically completed as quickly as the tablet can process the information, which is significantly faster than the plate placement method.
The video below shows a brief demonstration of how the system works currently. This is a new iteration in the QC software's development, which represents a big joint QC processing improvement over the manual reported on previously here.
Besides the development of the program itself, SBCA staff is in the process of developing a digital QC control chart tool. An SBCA QC subcommittee is working with staff to outline the important information needed to help management have the data that they need to improve both QC and truss plant management decision making. As we have said repeatedly if you cannot measure it you cannot manage or improve it.
This tool will be tied directly to the information gathered during digital QC inspections. An early example of the control chart tool, as a proof of concept, can be seen via the graph below: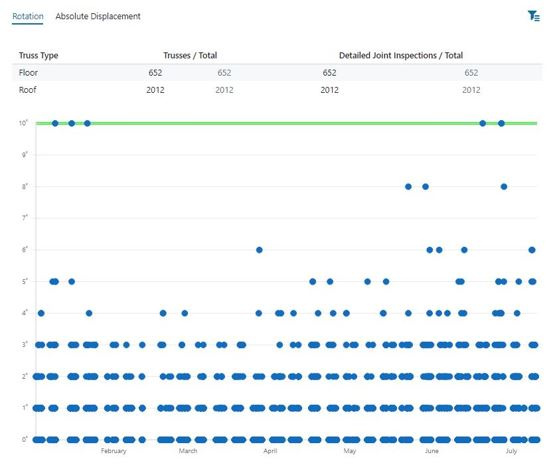 The digital QC program is currently being used by a few pre-alpha sites for testing and analysis on their computers. This step in the process is helping us determine what pain points arise in a new installation of the program and to work on the user interface so that its use is intuitive.
The next stage of the program, scheduled to begin later this month, will be to provide the alpha sites with the program on a tablet as they start to incorporate digital QC into their daily inspection routine.
For additional information and commentary on the SBCA digital QC activity, please review the following videos and articles:
An educational session on this topic, "Revolutionizing the Industry with Digital QC," has also been added to the BCMC schedule this October in Columbus, Ohio. Register now!