How the Industry's Third-Party QA Has Evolved
Originally published by the following source: SBC Magazine — September 9, 2019
by John Arne with contributions from SBCA Professional Engineering Staff
SBCRI's management and subsequent purchase of the 3rd Party Inspection Program has been smooth and gone according to plan, both from the management perspective and the Component Manufacturer (CM) perspective. With SBCA Digital QC coming soon, our goal to update, streamline, revolutionize and add management value to the truss inspection process is moving forward methodically. Let's take a moment to review the historical timeline of the Third Party Inspection Program leading up to where we are today.
February 2017 SBCA and TPI begin the discussion of reevaluating and realigning the roles of each organization. A key discussion topic was that each association should be responsible for an activity if it directly affects its membership. Given that third party inspections of trusses directly affected CMs manufacturing trusses, transferring the Third Party Inspection Program to SBCA fit SBCA's responsibility's perfectly. It is always in the best interests of CMs to have a key voice in the destiny of the truss manufacturing industry.  SBCA & TPI Progressing on Realignment of Roles (2/17/17)
October 2017 The two parties meet again and agree the realignment should proceed with the mission to ensure future endeavors utilize the strengths and talents of SBCA members with the different strengths and talents of TPI members, where the goal is to create teams that serve the best interests of the structural building component industry overall.  SBCA & TPI Meet, Agree Upon Association Realignment (10/17/17)
February 2018 SBCA and TPI staff meet in Madison, Wisconsin, to go over the details of the transition of the TPI Third Party Inspection program operation to SBCRI and specific tasks to implement.  SBCA & TPI Progressing on Realignment of Roles (2/12/18)
April 2018 SBCRI begins management of the program, including management of field inspectors, handling requests for letters of good standing and stamp orders, onboarding new plants, invoicing plants, and paying all program bills.  The benefit being SBCA now has a much closer relationship with all CMs that are part of the Third Party Inspection program. When CMs need additional information or support from SBCA, it has been easier to provide because communication is now direct.  Contracts Solidify SBCA-TPI Realignment (4/30/18)
SBCRI has provided over 100 letters of good standing in the program at plant requests, allowing those plants to show proof to building inspectors and general contractors that they have an in-plant QC program in place that meets the TPI-1 standard.
August 2018 the sale is finalized and SBCRI is officially the owner of the program.
September 2018 SBCRI changes the ISO/IEC 17020:2012 accreditation from IAS to ANAB to align with the SBCRI lab's 17025 accreditation already being serviced by ANAB. An additional benefit is that ANAB provides superior professional services at a lower cost. Plant Tour Education: TPI-SBCRI is a Second Set of Eyes (11/26/18)
January 2019 SBCRI adds wood wall panel and steel wall panel inspections to the program to serve more Component Manufacturers.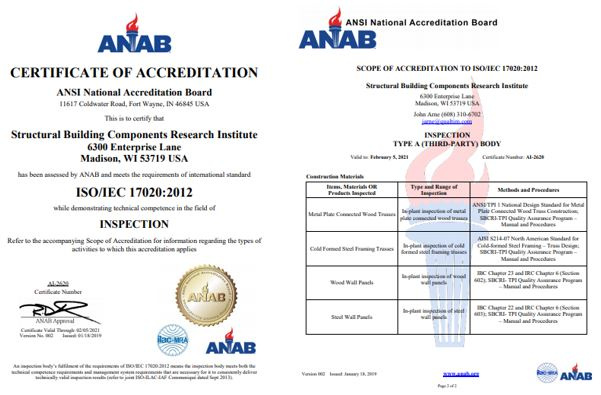 During this time SBCRI has seen growth in the program as shown in the chart below and foresees continued growth moving forward.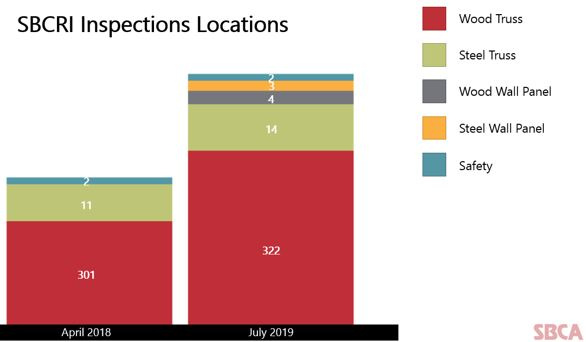 In our next article, we will review the mutual benefits SBCA and SBCRI get by managing the third party inspection program and what program participants have to say.
If you are interested in learning more about the inspection program, please contact John Arne, Director of Inspection Services.
For more background on this transition and the program, please reference these past articles: