How Are You Growing Your Structural Framing Market?
Originally published by the following source: SBC Magazine — October 14, 2019
by Laura Soderlund & Kirk Grundahl, with contributions by SBCA staff
Ask the Builder expert, Tim Carter, recently posted a video on attic trusses that wraps up the three-part video series he created to highlight the many advantages of industrialized structural framing. Since 1952, there has been no better solution for economical, accurate and professional framing.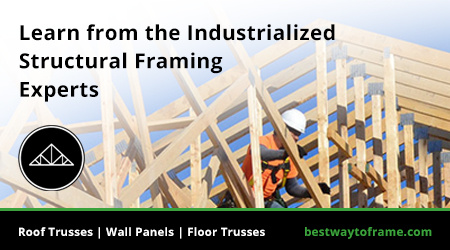 Each separate video on floor trusses, wall panels and attic trusses, are great resources for component manufacturers (CMs) to utilize in their markets to visually communicate the value of engineered components.
Tim's reach and influence in the construction industry will also get these videos in the hands of homebuilders, contractors, framers and the public, providing fact-based information about the type of products CMs manufacture that can be used to expedite the framing process.
In each video, Tim points out the features and benefits of using components while also directing his followers to SBCA's Best Way to Frame website to learn more. This complete series is just another way SBCA's collaboration with Tim Carter has proven to be mutually beneficial.
If you've "Set Your Course" for BCMC next week, you can watch these promotional videos at the SBCA booth right at the show! We'd love to get your input on how you could use these videos within your market and how they could be packaged or if any additional material would be helpful to accompany the videos.
Tim's most recent video, the third in the series, shows the simple value proposition of the attic trusses used to create a "bonus room" in what traditionally is wood webs, insulation and dead air.
In addition, Tim shared this video in his September 22 newsletter along with a few comments for his readers. "Can you imagine how you might get a huge room in your house for next to nothing? It's easier than you thought," writes Tim. "I guarantee you'll discover something you didn't know." Since the video was posted, it has garnered almost 1,200 views and 66 likes.
The second video in the series was promoted in a previous article, "Ask the Builder Video: Wall Panels a 'Win for Everyone'", and highlights the advantages of building with wall panels. In this video, Tim explains, "back when I was building, I didn't have the opportunity to use these magical building components, but they're being used to construct this new home right now. I witnessed the exterior walls of [this] home be set and secured in just a few hours. A standard carpentry crew could never achieve this task in the same amount of time cutting studs and headers and pounding nails at the job site. The prefabricated wall panels go together like giant Lego blocks. They're perfectly square from the factory, and the precision is astounding. [This home] is 44 feet long and the dimension was only off 1/16 inch. It's possible that error was in my tape measure, not the wall panels!"
The first video in the series was initially promoted in an article titled "Video: Floor Trusses Are 'The Bomb!'" and shares Tim's enthusiasm of building with floor trusses, where he observes, "decades ago I used floor trusses made with ordinary 2-by-4s to create the floor of a large room addition for a client. He refused to have any interior load-bearing walls or beams and also wanted a floor that was as solid as concrete with no bounce in it. Magic floor trusses solve problems like these and offer much more to architects, builders and homeowners."
SBCA members asked for, and helped create the "Component Marketing Toolbox". This collection of resources, combined with Tim's passion for having the market know about the many advantages of industrialized structural framing, are intended to help you customize your approach to promoting your business.
Please contact SBCA Staff to learn how we can collaborate to support your company's market development efforts. If you are coming to BCMC,  please stop by the SBCA booth to discuss how we can help. The future of framing is clearly going to need every CM's industrialized framing expertise!
For more information related to Tim's work and partnership with SBCA, check out his landing page and read the following articles.