California CMs Collaborate to Overcome Obstacles
Originally published by the following source: SBC Magazine — October 28, 2019
by TJ Jerke and Sean Shields, with contributions by SBCA staff
Delivery issues, field crew problems, engineering and design; the recent California Chapter meeting in September featured discussions on a wide range of topics that every CM in the room benefited from.  
The meeting drew more than 20 component manufacturers, suppliers, and others to Lincoln, California where the chapter held its third meeting in an effort to re-establish an active California-based SBCA chapter. Shawn Overholtzer, chief operations officer for California TrusFrame, organized the meeting with a goal of drawing more, and new, CMs into the fold.  
"We all face many of the same obstacles in the industry whether it is a lack of production labor or lack of designers, so being able to come together as a group periodically to share ideas, address concerns and work to promote our products only benefits all of the manufacturers in California," says Overholtzer.  "Our current environment is changing and being a part of a group that can help keep a CM relevant in today's market is critical."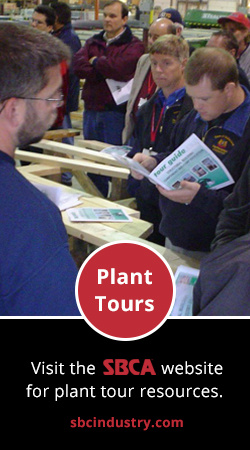 A key focus of the meeting was on membership in SBCA. Overholtzer, and others, discussed the benefits of joining the national association, which includes critical industry testing in SBCA's research facility, SBCRI, as well as the Digital QC program, weather testing, and the daily assistance that SBCA staff provides to members (see the spotlight on Trish and the list of articles at the bottom for examples).  All of this is in addition to the financial savings members receive on SBCA's many risk-management publications, BCMC registration, and much more.
"We can't do this alone or with just a small group we need their support and efforts. We need them to know what a great resource SBCA is for issues that they may face and that being part of the local chapter helps provide them with peers that they can discuss best practices on how to handle these issues," says Overholtzer. "I want to know what is preventing them from becoming a part of the association and what we can do to help them overcome those barriers. If we can rebuild the California Chapter of SBCA we can have a powerful advocate that can help to steer the industry in the right direction."
Overholtzer, and other members, hope to continue to grow the chapter and get more CMs to participate in chapter and SBCA events. They hope to build on their growing momentum and expand their reach within the industry. They are looking at ways to provide training to building departments and engineering firms regarding design and manufacturing processes. The chapter hopes to work with local youth development programs and become more involved at the high school and junior college levels to help recruit new employees and grow understanding of the component manufacturing industry.
"We had a fantastic chapter back in the early days called CalESCA. As a young person in the industry it helped expose me to my industry peers and taught me a great deal about the industry," says Overholtzer. "We worked together to address all kinds of issues and it was a group that who were competitors but they also recognized the value each other brought to the industry and the benefits of relationships."
SBCA Membership Support Manager Trish Kutz: Assisting Chapters and CM Educators
Trish connects members with associations and institutions in their area who are seeking building component education. Trish supplies CM presenters with SBCA-created presentation and handout materials to use during their educational sessions. Contact Trish at tkutz@qualtim.com if you would like to be considered for opportunities to provide building component education in your area or if you'd like to learn more about how to get involved in your local chapter.
For additional information on SBCA's collaboration with Chapters and SBCA support systems, please review the following: