BMC & UFP Add to Portfolios, What Does It Mean to CMs?
Originally published by the following source: SBC Magazine — October 7, 2019
by Sean Shields and Kirk Grundahl, with contributions from SBCA Staff
BMC Stock Holdings state they are, "a leading provider of diversified lumber and building materials and solutions to new construction builders and professional remodelers in the U.S.," recently announced they had acquired Heritage One Door & Carpentry. Based in Sacramento, California, Heritage is a large supplier of pre-hung doors, millwork, hardware and finished carpentry services.

With over $3.7B in net sales last year, BMC offers its customers a wide range of building products from millwork to structural components. They also provide a large array of services to their customers, from consultative showrooms and design centers to installation management services and eBusiness solutions.
When you add in the recent pallet acquisition by Universal Forest Products (UFP), it is clear the big are getting bigger and they are diversifying their business holdings and product offerings. UFP built its brand on distributing treated lumber, lumber products and structural components, and has now expanded to over 170 affiliated operations servicing the retail, construction and industrial markets.
What is motivating these large companies to further diversify?  The answer likely lies in the advantages of integrating farther up and down the construction supply chain. While odds are against anyone going as far as Katerra appears to be going, from opening their own CLT manufacturing facility to acquiring  single- and multi-family general contractors, there are advantages to consolidating multiple business types into one entity. Building material dealers have been doing this for decades, buying millwork shops and acquiring or opening their own truss plants.
What does this mean for the independent component manufacturer (CM)? There are a few questions CMs might consider when thinking about supply chain consolidation:
What solution is a better economic solution than connecting lumber with metal connectors inside a component manufacturing plant?
If change is going to take place, it has to replace the creation of an innovative wood structural framing solution being produced every few minutes. What is more efficient to manufacture than structural components?
Said another way, what is the substitute for lumber connected by plates that will produce a competing product every few minutes?
How far can one ship a roof or floor package or system economically?
How far can a business consolidate in a market segment that, by definition, is a local market?
Can it not be said that way before Katerra or Entekra, regular main line truss industry companies understood off-site framing economics well? All that needs to be done is look at:


ProBuild/BFS
84 Lumber
Universal Forest Products
Stock and BCM/BMC Stock Holdings
US LBM

How are the "changing" or "new offsite" business models the same? How are they different? What are the strengths and weaknesses of each?
In what ways, if any, does automation or robotics change this fundamental principle? What about software? BIM? AI?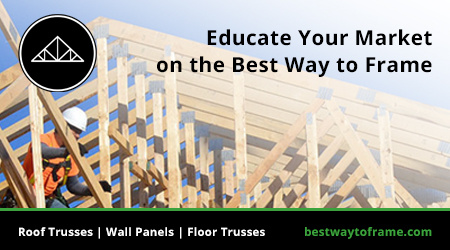 As builders and GCs reevaluate their supply chains to address scheduling inefficiencies, jobsite labor constraints, volatile material costs, jobsite waste and better cycle time efficiency, all CMs have an opportunity and a motivation to review their current business model and offer solutions tied to their customer's needs.
Over the coming year, SBCA is developing and beginning implementation of a five-year strategic plan focused on the changing CM environment, where CM business fundamentals will be reviewed in the context of WTCA past and then navigating a changing construction industry future grounded in assessing what is really going to be changing.
If you have ideas regarding what you see as the core critical issues that will negatively or positively affect a sustainable or durable truss, wall and related innovative structural framing solutions, please let us know (editor@sbcmag.info). In other words, what strengths, weaknesses, opportunities and threats do you see in front of us?