BFS' Griggs Says Transition Has Been 'Seamless'
Originally published by the following source: SBC Magazine — October 14, 2019
by John Arne, with contributions by SBCA staff
Greg Griggs, current SBCA President and senior vice president Manufacturing-East of Builders FirstSource knows first-hand that SBCRI's 3rd Party Inspection Program has gone through a lot of transition over the past 18 months.
Greg' vision has been consistent when he says; "Everybody knows it was slow in the beginning but I believe the third party inspection process in itself, with guys in the field doing the inspections, has been seamless.  They are still out there doing their inspections, with no negative impact on the customer base.  We are in a good place right now, and it's going to get better with time.
 "Another benefit is one association driving consistency. Before when QA and QC were split between different entities, at times there were different agendas. Now moving into the future with Digital QC, consistency with the entire QC program from in the field with our customers and within our membership, and then tied in with QA, it is SBCA setting the agenda and driving change moving forward. We have one agenda going forward and keeping everyone consistently on the same page."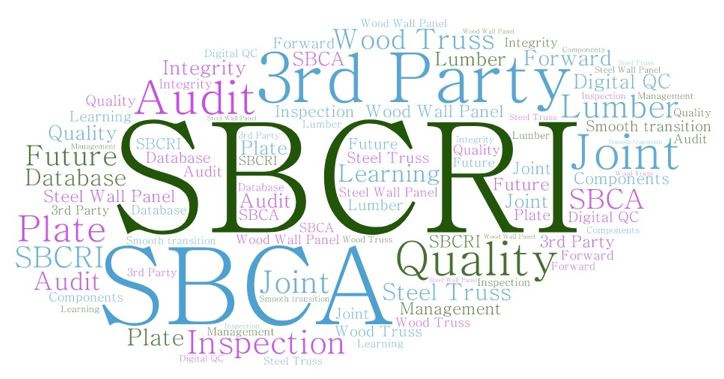 Given that a transition process can cause disruption and uncertainty, it is always good to get the direct perspectives on ongoing customers.
Jason Langreck, PE, of Automated Products, Inc. located in Marshfield, Wisconsin, says: 
"I would say there has not been a noticeable change and I would say that is a good thing. Mark Heintz from the shop felt the same. In our case, the change in location of the program from Virginia to Wisconsin was a benefit, I prefer dealing with someone just a few hours away. 
Also, I feel SBCA/SBCRI would have a better feel for our end customers and quality of our competitors product. SBCA deals with day-to-day issues and problems from the field and feedback on either of those items will make API a better, more competitive company."
Matt Moore of Holt Lumber located in Fresno, California, shares a similar perspective:
"I can't say we noticed any significant change and that's a good thing in my book. My quarterly compliance letters are coming back from SBCRI very quickly. We are happy with the service and support we are getting and our inspector continues to do an excellent job.
With the smooth transition and continued smooth operation and growth of the SBCRI 3rd Party program everyone is looking forward to the quickly approaching SBCA Digital QC program!"
If you are interested in learning more about the SBCRI inspection program, please contact John Arne, director of inspection services, or visit him at the SBCA Booth at BCMC in Columbus, OH, October 22-25, 2019.
For more information on the evolution of SBCRI's 3rd Party Inspection Program, please reference these past articles: