Resources for Polyiso CI Use by PIMA Members
Originally published by the following source: SBC Magazine — November 18, 2019
by Molly Butz with contributions from ABTG staff
The Polyisocyanurate Insulation Manufacturers Association (PIMA), released updated versions of their 300 Series Technical Bulletins focused on the use of Polyiso in residential wall systems.
The 300 Series includes four bulletins:
The 300 Series provides excellent technical information for architects, consultants, building owners and roofing contractors who are specifying and building with Polyiso insulation.
The goal of these bulletins is to provide information specific to Polyiso continuous insulation, where wall-bracing techniques, reducing the risk for moisture condensation and accumulation, and minimizing thermal bridging are design and use considerations.
Review and download the 300 Series from the PIMA website.
Use these technical bulletins in concert with the resources available at continuousinsulation.org for a library of support for foam sheathing design, specifying and installation. In particular, the wood and steel framing member calculators help evaluate U-factor and vapor retarder options for wall assemblies using foam sheathing.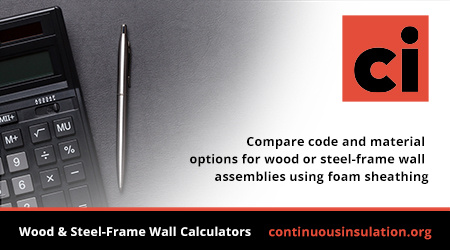 Our hope is that you find these resources valuable. Should you have any questions please contact us at any time!
Related articles:
Related videos: