The Industry Is Looking for Leaders: Interested?
Originally published by the following source: SBC Magazine — November 4, 2019
by Mindy Caldwell with contributions from SBCA staff
SBCA's Emerging Leaders Committee welcomed three new members in October who represent suppliers to the component manufacturing industry.
Justin Binning is head of the SYP department at American International Forest Products (AIFP) in Beaverton, Oregon. He started in the industry in 2010 and says the most rewarding part of his current position is "being in a position to mentor" and recognizes the importance of building relationships as a key to success in this industry. As a member of the committee, he says he hopes the group can "bring fresh perspective and energy, and share ideas with one another for the betterment of the industry."
Ken Timmins is also with American International Forest Products, where he's worked for two years as an MSR and High Grade Lumber Supplier and Analyst. He chose the component manufacturing industry because his values match those of his clients, "We uphold efficiency, integrity, and relationship as keystones of our businesses." To Ken, the most valuable function of the SBCA is to provide a platform to build partnerships to foster success through best practices. He looks forward to working with the committee to connect component manufacturers with "market intel and creative sourcing strategies to propel their business toward their goals" as well as help "recruit talented, driven individuals to drive the future of component manufacturing."
Michael Ruede, Jr. is technical services manager for Trussmatic. Mike was introduced to the industry at an early age by his father and wants to have, "a demanding but fulfilling career in this industry, while creating everlasting bonds and friendships with other companies and individuals from all over the country." Mike says he sees SBCA as "the heart of the component industry" with a primary role "to better the entire industry no matter what company you work for." According to Mike, "there is no better place to learn and grow as a company than participation in the SBCA," and one of his hopes for the Emerging Leaders Committee is "to continue to hold the values and character of the members past and present as we move into the future of our industry."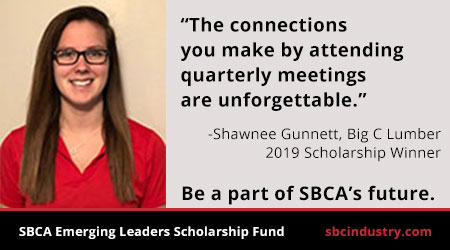 These new members join three other industry suppliers on the committee: Joe Halteman (Wood Truss Systems, Inc.), Dustin Johnson (Alpine), and Mike Kozlowski (Apex). The group is now 23 members strong and continues to look from more involvement from those who are young in the industry and looking to get more involved in SBCA.
If you or someone from your company is interested in joining this committee, you can find more information on SBCA's website. Entries for 2020 Emerging Leaders Scholarships are due November 15, 2019.
For additional information and commentary on SBCA's Emerging Leader involvement, please read the following articles: