Employee Recruiting? How Big C Capitalized on BCMC
Originally published by the following source: SBC Magazine — November 22, 2019
by Mindy Caldwell with contributions from SBCA staff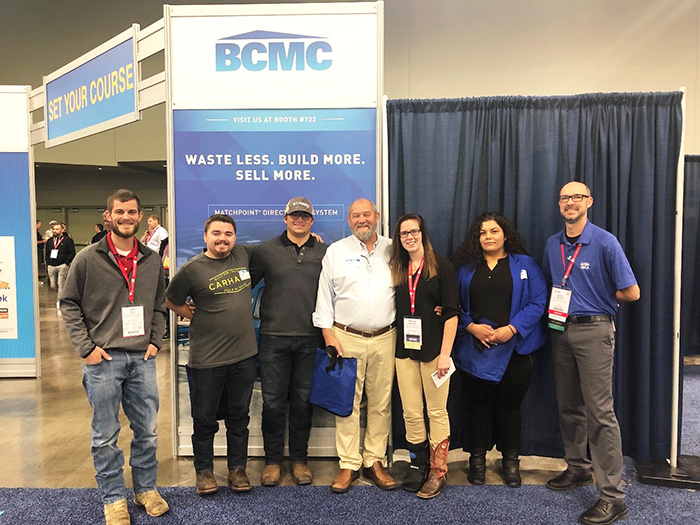 Big C Lumber hosted Southwest Michigan College at BCMC 2019. Pictured (l to r): Jake Roy (Big C), Tyler Monroe (SMC student), Ethan Valdes (SMC student), Larry Wilson (SMC instructor), Shawnee Gunnett (Big C), Shelly Galvan (SMC student), Dallas Austin (Big C)
Big C Lumber in Dowagiac, Michigan has been partnering with Southwest Michigan College (SMC) since 2017 to build a pathway for future employees. This successful partnership has resulted in a waiting list for Big C's internship program and given them the likes of Shawnee Gunnett, one of this year's SBCA Emerging Leaders Scholarship recipients.
SBCA's workforce development video Structural Building Components Industry: A Place for You, A Place that Matters. Learn more at sbcindustry.com/wfd.
In October of this year, Big C provided a few select SMC students the opportunity to take their exploration of the components industry a step further by inviting them to attend BCMC 2019 in Columbus as part of the show's Student Day program.
"My students walked away with lots of knowledge plus the curiosity for more," said Larry Wilson, chair of SMC's school of advanced technology and lead instructor for the Construction Trades - Green Technology program. "It was a plus-plus."
Larry says he's been recruiting students into his program since 2008 and has only recently been able to work on options for next steps after they're done with their two-years at SMC. He says he likes to ask his students, "What do you want to be doing when you're 50?"
"We've established good relationships with Big C and several large GCs in southwest Michigan, but what happens when we saturate our area with new labor?" he asks. "If I can expose them to job opportunities beyond our backyard they will understand that there are so many career opportunities in construction."
Larry and his students had a front row for the educational session, "Kids of Today, Employees of Tomorrow: Best Practices for Developing a Local Workforce," in which Shawnee was a panelist. "It was amazing to be sitting there in the front row watching her presentation on recruiting," Larry says. "I was busting my buttons."
"I think bringing the students to BCMC gave them an opportunity to see the innovation of the industry first hand," says Shawnee, an SMC alumna whose career in the industry began three years ago with a school internship at Big C. "I watched the students faces brighten and their jaws drop when they walked onto the show floor. They weren't sure where they wanted to begin asking questions."
In addition to being wowed by all of the automated equipment and technology, Larry said that his group also made good connections between the fundamentals they are learning in the classroom and the innovations they saw on the show floor. "For instance, we discuss stud spacing and the advantages and disadvantages of different kinds of insulation," he explains. "They were excited to see a product that tackles the issue of thermal bridging and even brought back a sample to show their classmates."
"I came away from the trip with even more curious minds than what I brought," says Larry, a clear advocate for students taking opportunities to see what lies beyond their corner of Michigan. "There's a whole industry out here that we're not even aware of. The students spent an entire class session talking about it."
Shawnee agrees. "Overall, I think it was an amazing day and I am looking forward to hosting students at future BCMC events."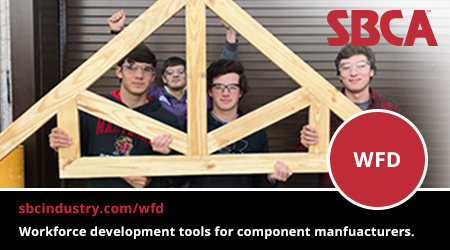 These articles detail Big C Lumber's workforce development efforts in their local area:
Read more WFD case studies and consider using SBCA's WFD resources and plant tour toolkit to reach out to schools in your community.