Choose Good Building Practice When it Comes to Thermal Bridging
Originally published by: Building Enclosure — October 7, 2019

The following article was produced and published by the source linked to above, who is solely responsible for its content. SBC Magazine is publishing this story to raise awareness of information publicly available online and does not verify the accuracy of the author's claims. As a consequence, SBC cannot vouch for the validity of any facts, claims or opinions made in the article.
Each year and each code cycle we get closer to developing requirements that will lead to truly energy efficient buildings. But there continues to be a lag between what the codes say and actual good building practice, especially when it comes to thermal bridging.
If the goal is to reduce the energy use by our buildings, the building envelope provides the biggest opportunity. Adding requirements for continuous insulation was a good step forward, but there's more work to be done.
We can start by looking at all of the thermal bridging materials that are incorporated into the building assembly. Not only should the main structural beams and the steel studs be calculated, we should also be looking at the other thermal bridges including Z channels, fasteners, brick ledges, hat channels, masonry ties, balconies, parapets and anything else that will transfer heat.
In the last few years a lot of attention has been placed on the proper installation of continuous insulation in buildings. The purported reason for this has been to stop the thermal bridging that occurs when you put thermal insulation between steel studs.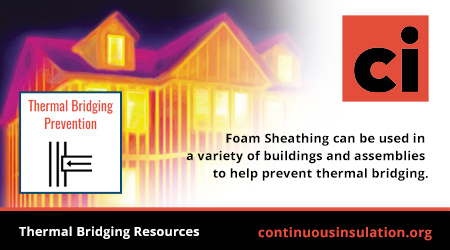 Years ago, we started out insulating our buildings by requiring a certain R-Value insulation to be installed in the cavities. In those days wood framing was very common. As we moved to steel studs in commercial buildings, we realized that the building assembly was performing less than the R-value of the insulation.
Today some building codes simply require a maximum U-Value for the building envelope; the intent is to reflect the thermal performance of the building assembly. Does it? In most cases, the answer is "not really."
In looking ahead, there are already a few manufacturers starting to develop thermal break materials. And, until the codes catch up, it will continue to be up to the people designing and specifying to make the additional adjustments by incorporating thermal breaks into their building envelope design.
For additional information, please review the following: