The Science of Weathered Performance for Joists & Trusses
Originally published by the following source: SBC Magazine — March 25, 2019
by Evan Protexter, EIT with contributions from Kirk Grundahl, PE
To gain as much information as effectively possible, a weathering research and testing program first needed to be developed. SBCA's Quality Control (QC) and Engineering and Technology (E&T) committees were heavily involved in both the creation and the execution of this process. SBCA staff started by looking into all existing research to determine what was already known, and if there were knowledge gaps to fill. Staff found that moisture research previously conducted had little to do with overall truss performance, and we are unaware of any weathered full-scale truss testing data.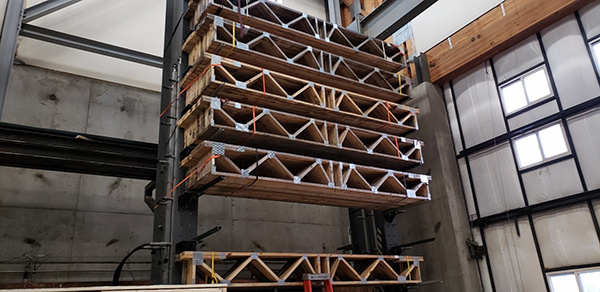 The SBCA/SBCRI goal with this program is to improve BCSI by creating recommendations based on collected data rather than opinion. Further, to provide sound storage counsel, backed up by unique QC and E&T committee expertise and testing conducted by the professionals at SBCRI.
Our test trusses and joists have experienced a wide array of weather conditions over a period of three and a half months. The four groups of trusses and joists from three locations were sent to the SBCRI testing facility in early December of 2018.
The weathered joists were the first to be tested. Since testing required that the joists be braced to prevent buckling, it made sense to test all the joists before moving on to the trusses.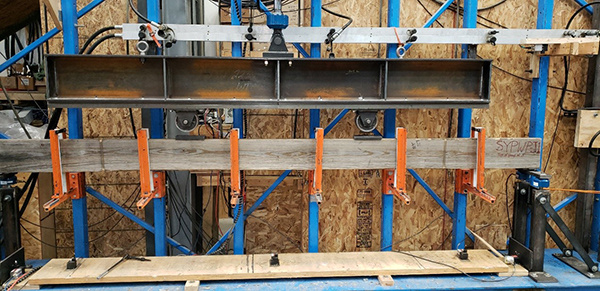 Joists were first pre-loaded to design load. This load was then removed, and load was applied until failure of the joist occurred. During testing, all pertinent data such as moisture content, lumber dimensions, and end reactions were gathered. With this data, a direct comparison could be drawn between weathered joists and the control joists.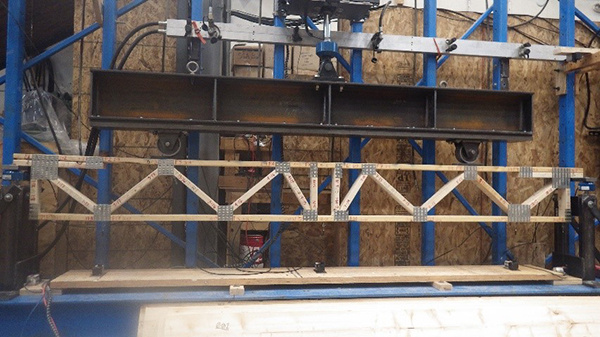 Testing the trusses was more detailed than testing the joists. Prior to truss testing, SBCA staff gathered specific QC details from truss designs. SBCRI staff used these details to perform detailed QC on the four joints that had the highest joint stress indices. These tests were also tied to the QC committee creation of the QC Joint concept. Incorporating this concept into testing allows SBCA to test and gather data to continue to confirm or deny our QC Joint hypothesis.
As previously described, our QC Joint concept was to designate the joint that will fail. In this case, it allowed us to focus all measurement and testing efforts more precisely. Measurements were also taken on plates that had plate embedment gaps based upon a visual inspection.  With plate embedment accounted for, trusses were set in the two-point loading station and loaded to design load.
This loading approach allowed for truss stiffness at design load to be measured without causing the truss to be overstressed. The truss was then pulled out of the testing station for truss plate joint repressing and retesting.
Plates that were determined to have greater than a 1/32" gap were pressed to be fully embedded.
TPI 1-2014 states the following with respect to repressing truss plates:
3.8 REPRESSING
The repressing of embedded Metal Connector Plates to improve plate embedment shall be permitted.
There are unsupported engineering opinions that suggest repressing plates, which have embedment gaps, may not restore truss performance. This is an opinion worth testing, given that much better repair and restoration decisions can be made with sound science to back decisions up. Once the plates were repressed, trusses were conditioned for one week to observe any potential "spring-back" of the plated joints that may occur from the repressing process. Once the 7 days passed, the truss could be set in the testing station and tested to failure.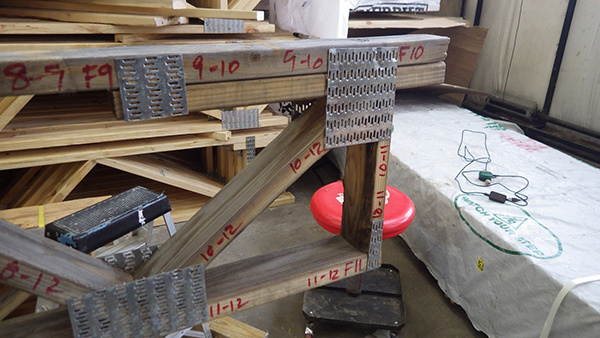 The focus of our testing program from inception was to provide knowledge and associated decision-making value, with respect to storage, effects of weather, QC joint, digital QC, and truss joint repair. Staff is now processing data and undertaking analysis. Once this is completed, our science-based approach will allow the QC committee to make data driven best practice recommendations and produce research reports, which will replace opinion with sound testing and engineering analysis.
For additional information on QC, read the following articles: