Safety-Focused Framers Talk Tips on Aerial Lifts
Originally published by the following source: SBC Magazine — March 22, 2019
by NFC Safety Committee Members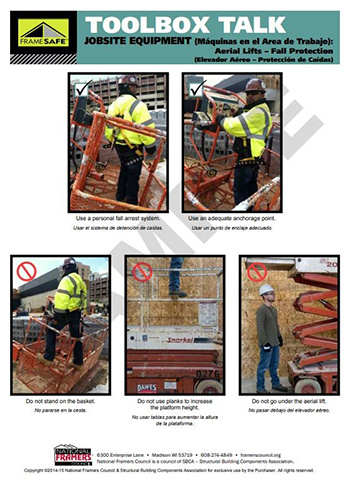 In December 2018, ANSI published new requirements regarding Mobile Elevating Work Platforms (MEWPs), formerly called Aerial Work Platforms. Manufacturers and end users of the equipment are required to come into compliance by December 2019.  The new standards are:
ANSI A92.20: Design, Calculations, Safety Requirements and Test Methods for MEWPs
ANSI A92.22: Safe Use of MEWPs
ANSI A92.24: Training Requirements for Operators of MEWPs
Based on a resource from the International Powered Access Federation (IPAF), which promotes the safe and effective use of powered access equipment worldwide, this article serves as an overview of the new requirements operators of MEWPs will be required to meet, particularly as it relates to framing activities.
ANSI 92.22 Safe Use of MEWPs
Safe-use planning requires a plan specific to MEWPs to be developed by users to include tasks such as:

a risk assessment,
the selection of the proper MEWP for application, and
access, preparation and maintenance of the work site prior to using the MEWP.

The user shall designate a qualified person to monitor, supervise and evaluate operators on a regular basis to ensure proficiency. This is to be accomplished through visual observation at a minimum, which shall be documented for retention by the user. Personnel directly supervising MEWP operators require training as defined in ANSI A92.24.
A new user responsibility requires ensuring the operator of a MEWP is physically and mentally capable to operate the MEWP safely.
Modifications to any part of the MEWP must be authorized by the owner and approved by the manufacturer.
Included in a risk assessment is the user requirement to develop a rescue plan for workers who may require rescue from a platform in an elevated position. This includes prior planning to ensure a safe and timely rescue. This must address rescues caused by MEWP malfunction and falls from the work platform.
The requirement that exiting a MEWP at height is only permitted through a procedure provided by the manufacturer has been updated. Now a "qualified person" can provide the procedure as long as it addresses all the requirements defined by the standard. If the risk assessment determines that exiting at height is the safest method for the work, then the procedure created by the qualified person shall be followed when the exit at height is conducted.
Prior to each operation, the user shall ensure that the MEWP operator provides instruction or otherwise ensures that all occupants have a basic level of knowledge to work safely using the MEWP.
ANSI 92.24 Training Requirements for Operators of MEWPs
Training is required for each class of MEWP classification.
Training must be provided in a manner that trainees can understand.
Supervisors of MEWP operators shall receive supervisor training. This shall include:

proper MEWP selection,
user and operator requirements,
how to identify known hazards and the means to manage risk, and
how to follow the requirements of the operator's manual.

If training is done "in house," users must comply with the administration of training standard to include:

training content,
trainer qualification,
training environment,
testing, and
documentation.
This article merely highlights the requirements of this new ANSI standard. As with all new standards, companies need to do their homework and familiarize themselves with the requirements contained within the standards and begin appropriate measures to ensure they are compliant prior to the end of the grace period given.
If you have any questions regarding this topic, contact staff.