Framers Emphasize Stand-Down Because Falls Can Be Fatal
Originally published by the following source: SBC Magazine — March 22, 2019. Updated April 12, 2019.
by Mindy Caldwell
The latest numbers from the Bureau of Labor Statistics (2017) underscores the ongoing need for consistent fall prevention training throughout the industry:
Falls are still a leading cause of workplace fatalities.
The number of fall fatalities increased in 2017.
The construction industry had the highest number of workplace fatalities.
This reality makes OSHA's annual Stand-Down to Prevent Falls in Construction an opportunity for framers to target this topic specifically to reinforce safety best practices when working at heights. Start planning now for this year's event coming up May 6-10, 2019.
Almost 60 percent of respondents to our recent Framing News poll reported that they participated in last year's Stand-Down. Most used OSHA's Stand-Down posters as part of their promotion of the event and used the week as an opportunity to give additional Toolbox Talks as well as provide presentations and activities on fall prevention topics. A few even got employees' families involved.
Safety Director David Klatzkin of Hull Associates in Grand Prairie, Texas, has participated in the National Safety Stand-Down for several years, requiring employees to stop working and hear a reminder about a variety of potential issues. "It's a good refocus," says David.  "Anytime you can get everybody at the same time to stop working and pay attention, it's always good."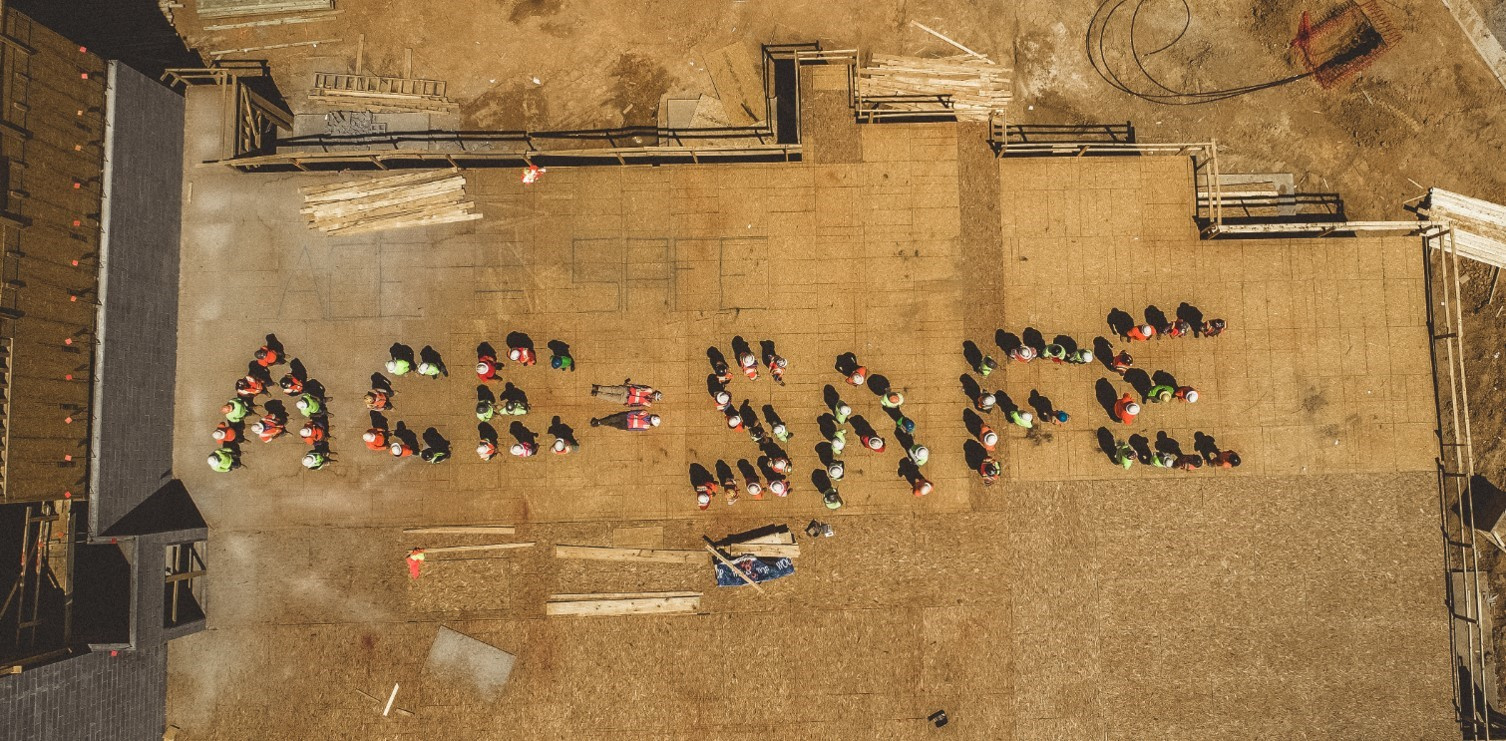 Likewise, Framers at Ace Carpentry Inc. in Manassas, Virginia are regular participants in the Stand-Down and their team took some creative drone photos during their 2018 event. General Manager Thomas Vittitow organized the above photo saying that work on the jobsite can become isolating, so "getting them together and trying to orchestrate something to that effect – it kind of gives us all [time] to just be involved with each other."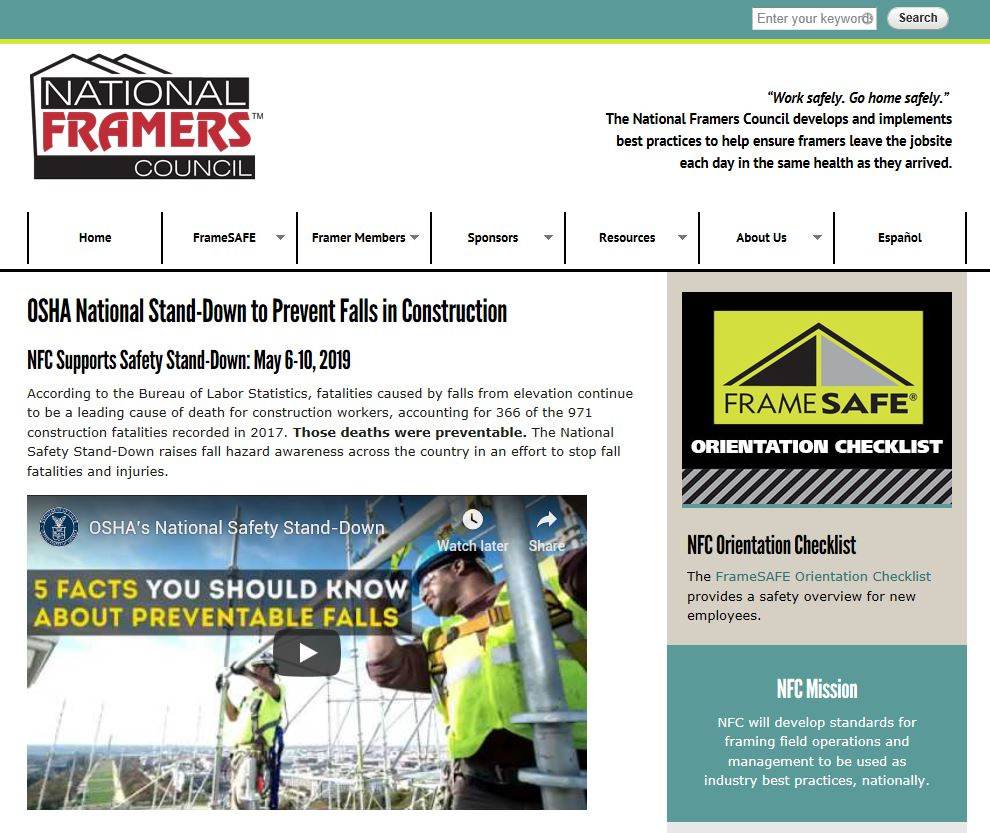 Not sure where to start?
All poll respondents who did not participate in last year's Stand-Down stated that the reason was they didn't know about it. Most indicated they were planning to participate this year; the thing holding them back was they weren't sure where to start. NFC has compiled resources to make it easy to begin planning for your Stand-Down now, including stories and photos from other members' events. If you aren't already a FrameSAFE subscriber, there is no better time to get signed up. FrameSAFE subscribers can access all of the program's fall protection resources on the FrameSAFE Dashboard by searching for "fall protection."
Want to make it fun?
NFC's marketing committee is bringing an additional bit of fun to this year's festivities with a little friendly competition. Let staff know you will be participating in this year's Stand-Down and request t-shirts for your crew. Then take at least one picture of your crew on a jobsite wearing their t-shirts during the week of the Stand-Down and submit it by May 15. Members of the marketing committee will review each picture and select a winner. The winning crew will receive a Yeti cooler. Be original when you take your picture(s) and have a little fun!
Many thanks to our contest Sponsors: 
GOLD: Snavely Forest Products/Typar, Trussway Manufacturing
SILVER: FastenMaster
BRONZE: Advanced Contractors Supply LLC, Lumbermen Associates, QuickTie Products Inc., Shelter Systems Limited
Contact staff with any questions you might have about the 2019 Stand-Down to Prevent Falls in Construction. We look forward to hearing about how this important safety event impacts your team's approach to fall prevention on your jobsites!