Building Official: We're More Educators than Enforcers
"(Building officials) are educators more than we are administrators. If we do the education thoroughly, administration is easy," says Roger Axel, a longtime building official and valued partner of the Structural Building Components Association.
That sentiment is why Axel helped bring 1,800 building officials from around the Midwest to Chaska, MN for five days of training for the annual International Code Council Region 3 event.
Event organizers invited SBCA executive director Kirk Grundahl to speak to a room full of building officials as a leading authority on the manufacturing, installation, and use of structural building components. 
"When we are in the field, it's imperative we know the requirements for handling, bracing, installing. All the things you talk about with the builders," Axel said. "We need to understand what the key elements are that we should be looking for such as how trusses fit into the design of the buildings to making sure they are installed to the engineers' design."
Axel said training for building officials is incredibly important to not only keeping code officials up to date on what is taking place in the industry, but also making sure building officials are out teaching the general public, contractors, designers and other industry professionals about code requirements.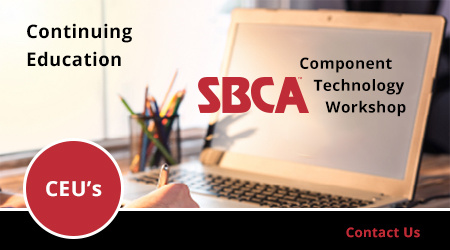 "Code administration is not so much about enforcement, its more about education," Axel said. "The more we know form the manufacturers' side, the better we can communicate to the field side and point out what needs to be corrected and addressed, or complement them and let them know they did everything right -- we're not here just to beat everyone up."
Axel said he enjoys having SBCA speak to building officials and plans to continue to invite association representatives back as long as he can.
Axel's focus on education can be emulated throughout the component industry. CMs should continue to invite their local building officials into their manufacturing plant for a tour, and to understand structural building components. Members can contact SBCA staff for guidance on contacting building officials and help with the tour.